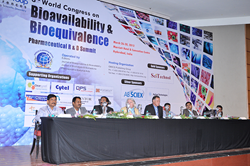 BABE-2014 will be a unique platform wherein innovative minds will discuss how to revolutionize the next generation medicine and take the pharmaceutical research to the next level.
Los Angeles, CA (PRWEB) August 05, 2014
Speaking for this occasion, CEO of the OMICS Group International, Dr. Srinubabu Gedela observed that several high profile speakers from reputed companies include Sinerik Ayrapetyan, UNESCO, Armenia; Lakshmi Putcha, NASA-Johnson Space Center, USA; Chase Bourke, USFDA, USA; Shnaukshta Valentina, Ministry Of Health Of The Republic of Kazakhstan; Sid Bhoopathy, Absorption Systems, USA; De Backer JW, FLUIDDA, Belgium; Luigi Silvestro, 3S-Pharmacological Consultation & Res, Germany; Sattam Al Ghodyyr, FDA, Saudia Arabia; Lisa Murray, Absorption Systems, USA; Jim Jingjun Huang, Ascendia Pharmaceuticals, LLC, USA; Kanat Khazhidinov, scientific center for anti-infective drugs, Kazakhstan who are attending this conference to share their experience at BABE-2014.
The eminent expert speakers at this International Pharma Conference include Braddy April, FDA, USA; Sean Zhang, Sino-American Pharmaceutical, USA; Myung Park, University of Maryland, USA; Laszlo Endrenyi, University of Toronto, Canada; An Songon, University of Maryland USA; Wolfgang Sadee, Ohio State University, SA; Diane J Burgess, University of Connecticut, USA; Christian Schoeneich, University of Kansas, USA; Jennifer Hibbs, Sullivan University, USA; Tania Konry, North-eastern University, USA; Chertok Beata, University of Michigan, USA; Smith David, University of Michigan, USA; Marino John P, National Institute of Standards and Technology, USA; Jim Jingjun Huang, CEO Ascendia Pharmaceuticals LLC, USA; Chase Bourke, FDA, USA; Salah Blaih, Kent State University, USA; Kaji. Hideko, Thomas Jefferson University, USA; Jan Sieluk, University of Maryland, USA; Palmer Taylor, Skaggs School of Pharmacy, USA; Joshua P. Lorenz, University of Cincinnati, USA; Sungchul Ji, State University of New York, USA; H.P. Vasantha Rupasinghe, Dalhousie University, USA.
Important tracks that are part of this scientific meeting includes Emerging Bioavailability and Bioequivalence Studies, Bioanalytical Methodology, Contemporary Challenges of Drug Design, Discovery and Development, Regulatory Policies, Procedures and Prerequisites for Clinical Research, Managing BA/BE Studies Relevance of Genetics to BA/BE in Drug Development, Bioavailability, Bioequivalence and Drug Product Selection, Advances in Assessment of Bioequivalence, Need for Conducting BA/BE Studies, Metabolic Pathways and Changes in Nutrient Bioavailability, Clinical Pharmacokinetics, Clinical Pharmacology and Therapeutics, Translational Cancer Research and Anticancer Drug Discovery, and Chronopharmaceutics: Germane Approach to Drug Delivery.
OMICS Group International is an open access publisher with 400 online peer reviewed science journals in the fields of Clinical, Medical, Engineering and technological, Pharmaceutical and Management fields. OMICS group hosts more than 300 International conferences and events across the globe. With the help of more than 1000 scientific associations. OMICS Group has been involved in providing a momentous platform for the world renowned scientists, researchers and talented student community from academic institutions to participate in the best academic conferences in the globe along with the collaboration initiatives with the leading entrepreneurs from industries.
Lambda Therapeutics Research Limited is a supporting silver sponsor for 5th World Congress on Bioavailability and Bioequivalence: Pharmaceutical R&D Summit, which is to be held during September 29 to October 01, 2014 at Baltimore, USA
To know more about the eminent speakers who will mark their presence at this conference, kindly visit our scientific program
For any further information please contact
John Benson
BABE-2014 Organizing Committee
Pharmaceutical Conferences
5716 Corsa Ave Suite110
Westlake Los Angeles
CA-91362-7354 USA
Ph: +1-888-843-8169
Toll No +1-800-216-6499
E-mail: babe2014(at)omicsonline.us