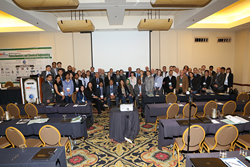 Los Angeles, CA (PRWEB) July 22, 2014
OMICS Group International invites researchers, industrialists, and students related to energy sector from across the countries of the world to attend its 2nd World Congress on Petrochemistry and Chemical Engineering during October 27-29, 2014 in Las Vegas, USA to promote and exchange ideas that could help in advancing the current knowledge on Energy.
Several eminent scientists that are participating in Petrochemistry-2014 include; Russell R. Chianelli, University of Texas at El Paso, USA; Ildenize Barbosa da Silva Cunha, University of Campinas, Brazil; Nataliya Kondrasheva, The National Mineral Resources University, Russia; Zhonghong Chen, China University of Petroleum, China; Yujing Liu, Swiss Federal Laboratories for Materials Science and Technology, Switzerland; J C Jones, Kazakh-British Technical University, Kazakhstan; Bushra Al-Duri, University of Birmingham, UK; Vladimir Litvinenko, The National Mineral Resources University, Russia; Byoung Yoon Park, Sandia National Laboratories, USA; Xiangfang Li, China University of Petroleum, China; Hanyi Zhong, China University of Petroleum, China; Davis Ford, Texas A&M University, USA; Zhengdong Cheng, Texas A&M University, USA; Yutaek Seo, Korea Advanced Institute of Science and Technology, Korea; Tereza Dantas, Federal University of Rio Grande do Norte, Brazil; Anna Abramova, Institute of general and inorganic chemistry of the Russian Academy of Sciences, Russia; Romain Lemaire, Université Lille Nord de France, France; Sébastien Menanteau, Université Lille Nord de France, France; Andrzej Boguslawski, Czestochowa University of Technology, Poland; Z.A.Mansurov, Institute of Combustion Problems, Kazakhstan; Carla Luciane Manske Camargo, Federal University of Rio de Janeiro, Brazil; Kerstin Derz, Fraunhofer Institute for Molecular Biology and Applied Ecology, Germany; Yasuteru Shigeta, University of Tsukuba, Japan; Aimy Bazylak, University of Toronto, Canada and many more.
OMICS Group International is an open access publisher with 400 online, peer reviewed science journals in the fields of Clinical, Medical, Engineering and technological, Pharmaceutical and Management fields. OMICS group hosts more than 300 International conferences and events across the globe. With the help of more than 1000 scientific associations, OMICS Group has been involved in providing a momentous platform for the world renowned scientists, researchers and talented student community from academic institutions to participate in the best scientific meetings consisting of International Workshops, academic sessions along with the collaboration initiatives with the leading entrepreneurs from industries.
Important Tracks designed for this scientific meeting includes: Processing Technologies, Petroleum Exploration & Field Management, Drilling & Well Completions Challenges, Piping and vessel engineering & Transport Phenomena, Chemical Applications in Producing Oil and Gas, Coal and Natural Gas, Challenges and Safety in Petrochemical Industry, Energy Economics, Renewable Energy and Feedstock, Industry Issues, Chemical Reaction Engineering and its Applications, Production Technology and Separation Techniques, Modelling and Simulation, Catalysis Concepts, and Reservoir Engineering.
To know about the tentative program, please follow the link
OMICS Group Journal of Petroleum & Environmental Biotechnology and Journal of Chemical Engineering & Process Technology acts as supporting journals of Petrochemistry-2014 conference.
For any further details, you can contact
Jessie Rose
Petrochemistry-2014 Organizing Committee
Pharmaceutical Conferences
5716 Corsa Ave, Suite110
Westlake, Los Angeles
CA-91362-7354, USA
Office +1- 650-268-9744
Toll No +1-800-216-6499 (USA & Canada)
E-mail: petrochemistry2014(at)omicsgroup(dot)us