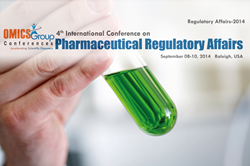 Los Angeles, CA (PRWEB) July 17, 2014
Regulatory Affairs-2014 intends to schedule the latest and innovative topics like API (Active Pharmaceutical Ingredients), scheduled drugs, over the counter drugs, subsequent process validation, audit process and inspection, common technical document, NDA (New Drug Application) and ANDA (Abbreviated New Drug Application) providing up-to-date and in-depth information on the present scenario with the pharmacy regulatory world.
International Pharma Conference on Regulatory Affairs-2014 is going to be exceptional with scientific programs like keynote presentations, session-wise talks, poster presentations, workshops, exhibitions and symposia on contemporary pharmaceutical design controls which would lead for further advancements and technological innovations in the regulatory affairs industry.
Foopelo Jackson from Community Green Farming, Cameroon will organize an exhibition during the session.
Supporting/ Media Partners for Regulatory Affairs-2014 includes: Pharma marketing news, Astra Nova Training, Medtube, Technology Networks scientific communities, Bio- equip and Bentham sciences are participating in Regulatory Affairs-2014 as media partners and collaborators.
People from companies and business profiles attending this scientific meeting includes David Hawley, Director, IS Compliance and Validation, North America; Najy Alsayed, CEO, 3E Pharma Consultancy, Switzerland;Neeranard Jinachai, Director of Regulatory Affairs of L'Oreal (Thailand) Ltd; Michael Drues, President of Vascular Sciences, USA; Vladimir V Popov, CEO & Medical Director of CRO, ESMAR, Russia; Rikul patel, Regulatory Quality Compliance Executive, UK; Rashid Mahmood, Sr. Manager Production & Development, Pakistan.
Renowned speakers at the Regulatory Affairs-2014 includes: Magali Cordaillat-Simmons, Pharmabiotic Research Institute, France; Natalie Thomas, Clinical Network Services Pty Ltd., UK; Ahmed Muhammad Farag, Cairo University, Egypt; Arunachalam Chinnathambi, King Saud University, KSA; Neeranard Jinachai, L'Oreal Ltd., Thailand; RoebGarcía-Arrazola, Tecnológico de Monterrey, México; Suzana de Lima R. de Deus, Actelion Pharmaceuticals do Brasil, Brazil; Tariq Jamshaid, Surge Laboratories Private Limited, Pakistan; Nacef Hacene Chahir, Zoetis, Algeria; Rikul Patel, Amdipharm Mercury Company Ltd., United Kingdom; TaghridObied, Princess Nora Bint Abdul Rahman University, KSA; Adam Sabouni, PharmaConsultz, USA; Laura Castagno, Pharma Quality Europe,Italy; Ricardo Ibarra-Cabrera, INBIOXICA SA de CV / Asociación Mexicana de Comités de Ética en Investigación, México; David Hawley, Life Sciences for Business & Decision, USA; Boyd L. Summers, BL Summers Consulting.LLC, USA; Peter Odeh, SNBL Clinical Pharmacology Center, USA; Rashid Mahmood, Surge Laboratories Private Limited, Pakistan; Augustine Onyeaghala, Afriglobal Medicare, Nigeria; Michael Drues, Principal Consultant Vascular Sciences, USA; Maria Soledad L. Distor, Food and Drug Administration, Philippines; Jerry Xu, WuXi Apptec, China; Makhapa Makhafola, Mintek, South Africa; Vladimir Popov, ESMAR, Russia; William Lee, Cato Research, USA; JoAnn P. Pfeiffer, University of Southern California, USA.
OMICS Group International is an open access publisher with 300 online, peer reviewed science journals in the fields of Clinical, Medical, Engineering and Technological, Pharmaceutical and Management fields. OMICS group hosts more than 100 International Science conferences and events across the globe. With the help of more than 150 scientific associations, OMICS Group has been providing a momentous platform for the world renowned scientists, researchers and students to gain the best out of the industries, academics and Business.
Regulatory Affairs-2014 is expected to attract Regulatory affairs professionals, quality control authorities, business and marketing professionals in pharmaceutical sector. It serves as a venue to facilitate the exchange of ideas and interaction to advance and explore the latest research outcome.
For more details on Regulatory Affairs -2014 conference, please visit: http://regulatoryaffairs2014.pharmaceuticalconferences.com/
For scientific program and list of speakers' kindly visit:
http://regulatoryaffairs2014.pharmaceuticalconferences.com/scientific-program.php?day=1&sid=488&date=2014-09-08
For further details contact
Kasper Dave
Regulatory Affairs -2014 Organizing Committee
Pharmaceutical Conferences
5716 Corsa Ave, Suite110
Westlake, Los Angeles
CA-91362-7354,USA
Phone: +1-650-268-9744
Fax: +1-650-618-1414
Toll No:+1-800-216-6499
E-mail: regulatoryaffairs2014(at)omicsgroup(dot)us