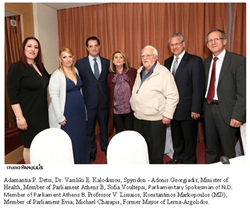 Cell Therapy-2014: Uncover the Potential that lies within the cell.
Henderson, NV (PRWEB) June 18, 2014
Cell Therapy-2014 is a remarkable event which brings together research eminent from the expertise of cell and gene therapy combining leading research scholars, clinical practitioners and scientists. The scientific gathering will ground university researchers, research academicians, leaders from biopharma facilitates and key opinion leaders from scientific business. The combination of such diverse mix of people from the various scientific fields makes the necessary impact for the needed communication and fruitful scientific network. Cell Therapy conference paves the scientific opportunity with plenary sessions, Editorial Board meetings, speaker sessions, young research forum, poster sessions, best poster awards, symposiums, International Workshops and exhibitions.
At the forefront, cell and gene therapy dives into the latest happenings of scientific world beholding renowned personalities and researchers in the field of Cell and Gene therapy such as Paul L. Hermonat, Central Arkansas Veterans Healthcare System, USA; James Wang, StemBios Technologies, Inc., USA; Wolfram Samlowski, University of Nevada, USA; Rafael Gonzalez, DaVinci Biosciences, LLC, USA; Johan Hyllner, Cell Therapy Catapult, UK; Steven Gitt, The Phoenix Stem Cell Treatment Center, USA; Stephen Lin, Life Technologies, USA; Andrei Laikhter, Bio-Synthesis, Inc., USA; Paul J. Davis, Albany Medical College, USA, and more dignitaries to count on.
The scientific sessions includes Cell & Gene Therapy-Potential Applications; Stem Cell Therapies; Cellular Therapies; Therapeutic Bioengineering; Reprogramming Cell Fate; Advanced Gene Therapeutics; Gene Transfer to Induce Cellular Programming; Cell Based Immunotherapy; Modern Approaches in Molecular Cancer Therapeutics; Challenges & Risks of Cancer Gene Therapy; Nano Methods to Target Cancer Cells; Bioengineering Therapeutics and Tissue Engineering.
The pre-conference workshop was held by OMICS Group in collaboration with Dr. Vasiliki E. Kalodimou and hosted delegates from Greece, USA & UK. With the theme 'Stem Cell Applications in Regenerative Medicine and Flow Cytometry' which was held on May 08 & 09, 2014 at Metropolitan Hotel Athens, Greece. This preconference clutched personage like Spyridon - Adonis Georgiadis, Minister of Health, Member of Parliament Athens B-Welcome Speech, Sofia Voultepsi, Parliamentary Spokesman of N.D. Member of Parliament Athens B, Journalist-Speech: Women in Science, Konstantinos Markopoulos, Member of Parliament Evia, Vasileios Kikilias, Member of Parliament Athens, Michael Chasapis, Former Mayor of Lerna-Argolidos & Candidate Mayor of Argos- Mykinon-Argolidos 2014 Panagiotis Mantas, Director of National Health System in Greece.
OMICS Publishing Group publishes 350 online open access journals in Clinical, Medical, Life Sciences Including Management, Engineering, Technology, and Pharmaceutical fields with an aim to provide healthcare information free from the copyright barriers by organizing over 150 International Scientific Meetings across the globe annually. OMICS Group enjoys the support of a strong 30,000 members in the editorial team with a readership of 3.5 million. OMICS Group has collaborated with more than 100 scientific associations and institutions worldwide to promote information on healthcare through 'Open Access' platform.
OMICS Group Organizing committee for 3rd International Conference and Exhibition on Cell & Gene Therapy invites eminent speakers in the field to participate and also to conduct International Workshops on related scientific sessions of the conference. This event edges out the aspects of setting up a successful B2B environment to evaluate the participants and increase their probability of making high-quality business network.
For more details and further information related to Cell Therapy-2014, please contact
Sharan Daniel
Cell Therapy 2014-Organizing Committee
Medical Conference
2360 Corporate Circle Suite,
400 Henderson, NV 89074-7722, USA
Office Ph: +1-888-843-8169 F: +1-650-618-1414
E-mail: celltherapy2014(at)omicsgroup(dot)us