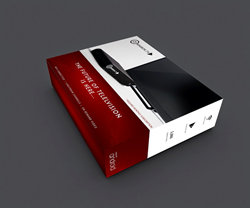 The Future Of Television Is Here
Manasquan, NJ (PRWEB) April 20, 2015
"You asked and we listened," said Jason DeMeo, President and CEO of OmniBox TV. "We're experiencing rapid growth penetrating all National Markets with our most popular $24.95 per month premium channel subscription which includes 500+ live channels and over 400 on demand channels. Many consumers have been requesting a no subscription model do to the robust OmniBox TV user interface and platform technology which dominates over other streaming media players," DeMeo continued to say.
Its been reported by Q1 2017, 40 percent of U.S. Internet homes will have a streaming media player, bringing the total number of homes with these devices to 39 million, according to the new NPD Connected Intelligence Connected Home Forecast. At the beginning of 2014 (Q1) only 16 percent of U.S. Internet homes had a streaming media player. Ownership is on track to climb to nearly one-quarter of homes, 24 percent, by Q2 2015 when consumers report device ownership that takes into account their holiday purchases.
"The rapidly growing streaming media player market, coupled with rising ownership of smart TVs and the new generation of game consoles is resulting in significantly more homes getting access to apps such as Amazon Prime Instant Video and HBOGO," said John Buffone, executive director, Connected Intelligence. "Over the coming years we will continue to see a growing audience of TV viewers for streaming video services, authenticated network apps, and offerings such as CBS All Access that no longer require a pay TV subscription from a cable or satellite provider."
The no subscription OmniBox TV NGO5000 is available for a one-time fee for hardware of $149.95. In addition, OmniBox TV has added a new Flex Pay option for new subscribers which allows them to utilize all the OmniBox TV features for less than $100.00 upfront. The Flex Pay Plan alternative is $40.00 down, a $20.00 activation fee, first months subscription fee of $24.95 a month, and an additional $10.00 a month Flex Payment for 12 months to payoff the OmniBox TV hardware still with guaranteed approval no matter your credit rating or location.
OmniBox TV - The Future of Television Is Here!
About OmniBox TV:
NG OmniBox TV is an IPTV Set Top Box that turns every TV into a Smart TV. It syncs with your home internet or mobile hot spot giving you access to Live, On Demand, and Web content with 1080P HD streaming ability. Our users can now view their favorite live channels, shows, and movies while having access to their favorite social media sites, email, and web browsing, all right from their television. The Next Generation OmniBox now comes with many new features including Google Play Store, Flash Media Players, Multiple Web Browsers and over 1,000 Live and On Demand Channels