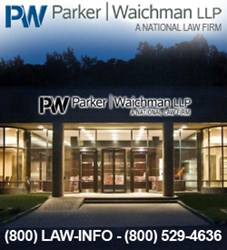 The case was unsealed in 2011 after the U.S. Attorney for the Northern District of Ohio decided not to intervene; Mr. Gale proceeded without the assistance of the Department of Justice [which means he can collect a larger percentage of the award].
New York, New York (PRWEB) October 24, 2013
Parker Waichman LLP, a national law firm dedicated to protecting the rights of individuals against fraud, extols the successful efforts of whistleblower Donald Gale, who filed the lawsuit that compelled Omnicare to pay the U.S. government $120 million to settle allegations that it had been giving nursing homes huge markdowns on prescription drugs in exchange for patient referrals that the company allegedly used to defraud Medicare (USA ex rel. Gale v. Omnicare Inc., U.S. District Court, Northern District of Ohio, Case No. 1:2010-cv-00127). The lawsuit against Omnicare — the company has not admitted liability — was scheduled to go to trial next week, on Oct. 28, according to an Oct. 23 Bloomberg report. As for the specific charges in the lawsuit, according to court papers, Omnicare allegedly provided select nursing homes with deep discounts on prescription drugs for inpatients covered under Medicare Part A, a federal program that pays these facilities a fixed fee per patient, per day, for the patient's first 100 days. The nursing homes, in return, allegedly gave referrals of other patients whom Omnicare could bill against other public insurance programs, according to court papers.
The Civil War-era False Claims Act provides whistleblowers with protection and the opportunity for compensation. Amendments added to the Act in 1986 helped to incentivize whistleblowers to come forward, primarily by raising the amounts that can be charged for damages and penalties. As a result, whistleblowers can be awarded millions of dollars today; between 15% and 30% of the amount recovered by the government. The False Claims Act permitted Mr. Gale to bring this case forward, as it allows private persons to file lawsuits on behalf of the government; such lawsuits are also known as "qui tam" actions.
According to the Bloomberg report, the case was unsealed in 2011 after the U.S. Attorney for the Northern District of Ohio decided not to intervene; Mr. Gale then proceeded without the assistance of the U.S. Department of Justice. This is why he is eligible for a larger percentage of the awarded amount, between 25% and 30% — up to $36 million — as per the False Claims Act. (The agreement between Omnicare and the government still requires the Justice Department's approval, according to the Oct. 23 Bloomberg report.)
"This case is a potent example of how the False Claims Act was meant to work by inspiring Americans to fight fraud on behalf of their own government," said Gary Falkowitz, Managing Attorney at Parker Waichman LLP. "These whistleblowers can also obtain millions of dollars for themselves and take satisfaction in knowing that they have ended a fraudulent scheme that would have cost taxpayers across the nation a lot more had it been permitted to continue."
In recent years many pharmaceutical employees have come forward to report fraudulent billing, illegal marketing techniques and undisclosed drug side effects. These whistleblowers have helped the federal government recover billions of dollars obtained illegally by pharmaceutical and medical device companies. Whistleblowers also save the lives of countless prescription drug and medical device users who were previously unaware of the side effects of their device or prescription.
Anyone who possesses proof that a pharmaceutical or medical device company has engaged in some form of fraudulent activity against the federal government is encouraged to contact us. Please view our Qui Tam page or call 1-800-LAW-INFO (1-800-529-4636).
Contact:
Parker Waichman LLP
Gary Falkowitz, Managing Attorney
(800) LAW-INFO
(800) 529-4636
http://www.yourlawyer.com