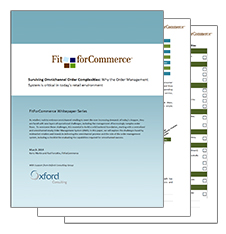 Westerville, Ohio (PRWEB) April 01, 2014
Oxford Consulting Group today announced that it has released a white paper developed by the leading eCommerce consultancy, FitForCommerce, focused on addressing the challenges many retailers and brands face in meeting the growing expectations of today's omnichannel shopper. The new white paper, entitled "Surviving Omnichannel Order Complexities: Why the Order Management System is Critical in Today's Retail Environment," was developed to help educate business and technology leaders about a critical, but often under-valued area of eCommerce: order management and fulfillment.
Retailers and brands face unprecedented challenges in meeting consumer expectations, along with competitive pressures from all corners. Consumers want to be able to shop and buy through multiple channels—online, on mobile devices, through catalogs and in-stores—and expect a smooth experience as they travel interchangeably between channels.
This adds new layers of operational challenges for companies; including the management of increasingly complex order flows, as well as the management of customer data, inventory levels, product information, fulfillment data, and more. Processing these complex orders can, in many cases, lead to poor customer experiences that have detrimental impact on revenue and customer loyalty.
The white paper takes a comprehensive look at these challenges, illustrates how many companies struggle to meet customer expectations through disjointed technologies and processes, and describes why a solid backend foundation for omnichannel retailing will significantly decrease problems.
In addition, the white paper reveals the most important order management capabilities required to execute complex orders, how each supports operations, and how they help to achieve the omnichannel experiences that most retailers and brands are striving for today. Furthermore, the document features a helpful checklist of the order management capabilities required for omnichannel success—whether a large enterprise or midmarket company.
"Omnichannel complexity is not only faced by the largest retailers, but by midmarket retailers as well," said Lori Angalich, vice president of marketing at Oxford Consulting Group. "Consumers expect the same seamless shopping experiences and perfect fulfillment experiences from midmarket retailers as they do their larger competitors.
This white paper sheds light on the capabilities, technologies, and approaches midmarket companies can leverage to fulfill customer expectations, reduce complexity and level the playing field—while doing so cost-effectively."
Interested parties can receive the white paper, compliments of Oxford Consulting Group, by visiting http://offers.oxford-consulting.com/surviving-omnichannel.
About Oxford Consulting Group
Oxford Consulting Group delivers expert IT services and innovative technology solutions that create exceptional business value. They have assisted hundreds of mid-market and Global 2000 companies—including many leading retailers and manufacturers—by developing, implementing and supporting their technology portfolios. Oxford's team of experienced technology and business professionals understands what it takes to deliver mission-critical order management, B2B integration and e-commerce solutions, and knows how to make true omnichannel commerce a reality. Visit http://www.oxford-consulting.com to learn more about the company's services and solutions, or contact them directly at (614) 310-2700.