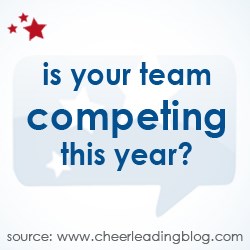 Competitions are an exciting aspect of cheer and we hope that all cheerleaders can experience a competition.
San Diego, CA (PRWEB) September 13, 2013
The results of Cheerleading Blog's most recent poll have been released. Readers were asked if they were competing this year and whether or not they typically compete. The blog, supported in part by leading cheerleading retailer Omni Cheer, features a new poll each month on cheerleaders' favorite topics.
"Competitions are a big part of cheerleading. Many squads require different uniforms, gear, and routines as opposed to what they use for games. At competitions, cheerleaders are the stars and the focus," said Omni Cheer marketing manager, Jessica Rzeszut.
The poll featured four different options from which to choose and the results featured one clear winner. With 70% of the votes, cheerleaders answered that their team will be competing this year, as they do every year. With a scant 2% of votes, readers said that they won't be competing this year, but plan on competing the following year.
The poll, which was conducted this past month, was posted on the home page of the blog, as well as in a dedicated article. The full results of the poll can be viewed on Cheerleading Blog's website.
"We were happy to see that nearly three quarters of cheerleaders compete. Competitions are an exciting aspect of cheer and we hope that all cheerleaders can experience a competition, even if it's just one," said Melissa Darcey, Cheerleading Blog editor. "We hope the 16% of voters who said they never compete will eventually be able to compete.
Competition season is approaching and already cheerleaders are training. The blog currently features dozens of articles on competitions, from planning routines to staying safe during travel.
A new poll is posted every month on the blog and the results are revealed the following month. To view this poll's results or to vote in the latest poll, visit http://www.cheerleadingblog.com.
ABOUT CHEERLEADING BLOG:
Cheerleading Blog is the official blog supported by industry leaders Omni Cheer®, Campus Teamwear®, Chasse®, Fund2Raise® and Glitterbug® Cosmetics.
ABOUT OMNI CHEER®:
For over twenty years, Omni Cheer has supplied cheerleaders with apparel and accessories. The cheer gear retailer guarantees the lowest prices on high-quality items, including uniforms, warm-ups, shoes, pom poms, practice wear, accessories, fundraising items, and body basics. To learn more, please visit the online store.