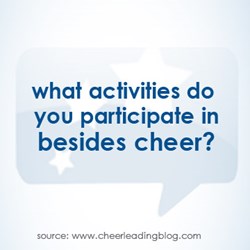 [The poll results] really show you that cheerleading isn't just a school sport; it's a lifestyle and one that requires a lot of attention and dedication.
San Diego, CA (PRWEB) February 03, 2014
The results of Cheerleading Blog's most recent poll have been released. Readers were asked if they participate in any other activities other than cheerleading, like sports, performing arts, or school clubs. The blog, supported in part by leading cheerleading retailer Omni Cheer, features a new poll each month on cheerleaders' favorite topics.
"Many people don't realize how busy a schedule cheerleaders have. Many have to sacrifice a lot of social time with friends and family in order to remain at the top of their game," said Omni Cheer marketing manager, Jessica Rzeszut.
The poll featured four different options from which to choose and the results featured one clear winner. With nearly 65% of the votes, cheerleaders answered that they don't have time for any other activities. In a distant second place, 16% said they are involved in the performing arts, like drama, band, and chorus.
The poll, which was conducted over the past month, was posted on the home page of the blog, as well as in a dedicated article. The full results of the poll can be viewed on Cheerleading Blog's website.
"It's really not surprising to see how few of our readers have time for other activities. It really goes to show you that cheerleading isn't just a school sport; it's a lifestyle and one that requires a lot of attention and dedication," said Melissa Darcey, Cheerleading Blog editor. "We're always amazed by the cheerleaders who are able to balance multiple activities."
Many cheerleaders will have some time off soon, as competition season comes to an end in the next few months. However, many other cheerleaders and aspiring cheerleaders have tryouts coming up. Cheerleading Blog will be releasing multiple new articles on tryout preparation.
A new poll is posted every month on the blog and the results are revealed the following month. To view this poll's results or to vote in the latest poll, visit http://www.cheerleadingblog.com.
ABOUT CHEERLEADING BLOG:
Cheerleading Blog is the official blog supported by industry leaders Omni Cheer®, Campus Teamwear®, Chasse®, Fund2Raise® and Glitterbug® Cosmetics.
ABOUT OMNI CHEER®:
For over twenty years, Omni Cheer has supplied cheerleaders with apparel and accessories. The cheer gear retailer guarantees the lowest prices on high-quality items, including uniforms, warm-ups, shoes, pom poms, practice wear, accessories, fundraising items, and body basics. To learn more, please visit the online store.