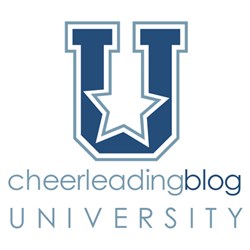 There is nothing else like this in the cheer industry. We constantly strive to produce the most updated and current information cheerleaders look for.
San Diego, CA (PRWEB) August 21, 2013
Cheerleading Blog University reached a publication milestone when, on Tuesday, August 20, it published its 35th cheerleading eBook. Cheerleading Blog, supported in part by leading cheer apparel retailer Omni Cheer, created the University in 2011. In January 2012, the blog redesigned the layout and gave the University eBooks a fresh look.
"The guides are easy to read, easy to navigate, and easy to print," said Omni Cheer marketing manager, Jessica Rzeszut."
They're also all free. In exchange for downloading any of the guides, readers post a Tweet or Facebook post about the download.
Rzeszut adds, "We want everyone to be able to access them, but we also wanted a way help spread the word about this new resource."
Each University guide focuses on one topic that is currently relevant in the cheerleading world. Past topics include cheer camp, tryouts, stretching techniques, competitions, spirit tips for sports games, and more. Some even include infographs – a newer feature of the blog.
"There is nothing else like this in the cheer industry. We constantly strive to produce the most updated and current information cheerleaders look for. We cover a wide range of topics, from current events to stunting tips to resolving an issue between teammates. We are dedicated to being the premiere resource for cheerleaders of all ages and skill levels," commented Cheerleading Blog editor, Melissa Darcey.
By January 2013, the University had released 25 guides. In the past eight months, another ten guides have been published and there are no signs of slowing down. Since the beginning of 2013, the University has been publishing at least one guide a month, sometimes even two.
"Based on the number of downloads, interactions, and responses we're receiving, we plan to continue to publish free guides on a consistent basis," added Darcey.
In July 2013, Cheerleading Blog launched a quarterly magazine, CheerLiving®, as another outlet for providing the latest cheer information, tips, and advice. The magazine, also free of charge, is available to download on its website..
To download any of the University guides or to read the latest daily articles, visit the Cheerleading Blog website.
About Cheerleading Blog
Cheerleading Blog is the official blog supported by industry leaders Omni Cheer®, Campus Teamwear®, Chasse®, Fund2Raise® and Glitterbug® Cosmetics.
About Cheerleading Blog University
The University launched in 2012 and provides tips and answers for everything cheer, including tryouts, uniform ordering, fundraising, living a cheer lifestyle and more!
About Omni Cheer
For over twenty years, Omni Cheer has supplied cheerleaders with apparel and accessories. The cheer gear retailer guarantees the lowest prices on high-quality items, including uniforms, warm- ups, shoes, pom poms, practice wear, accessories, fundraising items, and body basics. To learn more, please visit the online store.