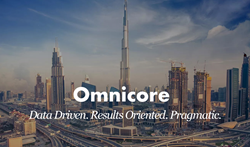 By providing comprehensive digital marketing solutions, we help our clients innovate to become the new leaders of the online marketplace. - Hafiz Muhammad Ali
Dubai, UAE (PRWEB) March 27, 2017
Omnicore, a full-service digital marketing agency, is pleased to announce its expansion into Dubai, UAE, which now allows the company to centralize its presence in the Middle East. Businesses, startups and entrepreneurs in the region will now have access to premier digital marketing services and campaigns, which can be tailored to brands of any size in any industry. The comprehensive digital marketing solutions available from Omnicore.ae allow any brand or company to compete globally on the Web.
The company's services are not limited to Search Engine Optimization, which its beginnings are rooted in. Nonetheless, it is certainly capable of helping brands reach and stay at the top of search engine results pages. The latest SEO best practices, including technical website reviews and audits, competitive analyses, backlink building, and content development, are implemented with razor-sharp precision. Local SEO campaigns are driven by a team able to build comprehensive profiles on local directories and optimize content for local mobile users. A real-time reporting system provides transparency; clients can instantly see how local SEO services are working for them.
Results-Oriented, Data-Driven Digital Marketing Solutions.
Anchored by constant communication and complete transparency, Omnicore's digital marketing team is flexible. It can tailor a strategy that works for the individual client business, based on an analysis of the client's business, its products and services, and current customer base. The most effective marketing channels are pursued on a case by case basis. From a team approach, the strategy will be adjusted until an effective solution is found. There are several other digital marketing services offered, beyond SEO and mobile content optimization, including:

Social Media: Omnicore does not limit social media marketing to just posting content on the client's Facebook, YouTube, or LinkedIn accounts. It creates a full strategy that focuses on social media engagement, so business clients in Dubai and beyond can maximize their online marketing campaigns. Starting with a strategic plan, the team will assess the latest industry trends to develop relevant copy, video, and images that engage the client's audience. Regular postings boost conversations and customer service. The team also keeps track of online conversations to direct its content marketing efforts. It focuses on paid social media advertising as well, to maximize client and brand exposure.
Content Marketing: Going by the mantra "content is king", the company's team can boost visibility and website traffic with blog posts, whitepapers, e-books, and informative webpages. It brainstorms topics and chooses the most relevant types of content. In addition, the team manages a consistent content calendar that incorporates trending topics and promotes content on the platforms and publications the client's audience is most active on. Engaging, timely content is created using the latest industry techniques, so clients' brands stand out.
PPC: The Omnicore team has the training and certification to provide strategic paid advertising services via Google AdWords. It also uses the power of social media to drive ad campaigns. These PPC campaigns target people who search for the client's products and services on the Web. The team can help boost clicks and conversions by creating engaging online ads. It provides expert Google AdWords management, so clients can take advantage of the globally dominating search engine. Customers also receive to-notch Facebook advertising, geographic targeting, and ongoing analysis and monitoring of online ad campaigns.
A Full-Service Digital Marketing Consultancy in Dubai
The local business market is competitive. Omnicore's team knows how to refine an online marketing strategy and create a brand message that resonates across a business and its audience. It starts with a client company's current position, assessing the growth potential and competitiveness of the individual brand. The team can then develop a strategy that focuses on improvement, using all essential elements to develop brands, and meeting the client's business goals.
In a consultancy role, team members conduct market research, and develop detailed personas of customers to guide marketing campaigns. Each strategy is driven by research into market insights and other data. The first phase is to develop a strategy. However, the team doesn't stop there; it will provide ongoing support of clients' digital marketing initiatives beyond the initial stages.
Omnicore: Giving Brands a Voice
The Omnicore team is equipped to define and develop distinctive brand identities, names, stories, and strategies, allowing clients, their products, and services to stand out. It can help with starting new brands or rebranding an existing product/service. Consulting services are available to align marketing and business goals. The team is also skilled at identifying effective logos, taglines, color schemes, imagery, and other aspects of brand identity. It works together with clients to develop guidelines, based on the core brand strategy, to ensure messaging remains consistent across all platforms and advertising channels. From messaging to visuals, Omnicore helps create a message that can resonate with all a client's target consumers.
Serving a Diverse and Growing Market
An office in Dubai gives Omnicore access to the multitude of businesses that have set up in one of the largest economic centers in the region. Dubai is quickly becoming a global market hub and is a center for trade and culture as well. The company's digital marketing services are now available to businesses in finance, industry, manufacturing, distribution and logistics, tourism, and other markets that are thriving and competing in the area. It now serves a premier international business center, allowing the firm to strive towards its own goals and those of its clients.
To learn more about Omnicore, it's new Dubai office, and digital marketing services, go to https://omnicore.ae.
About Omnicore Agency DMCC
Omnicore is a leading digital marketing company serving businesses around the world. Starting with Search Engine Optimization, the company has grown to offer a comprehensive set of digital marketing solutions to brands of all sizes, in any industry. Each digital marketing campaign is tailored to the client's unique business needs. The Omnicore team receives continuing education and training, so it stays up-to-date on the latest technologies and trends. Data driven strategies are followed up by analysis and measurement to ensure SEO, PPC, content marketing, branding, and consulting efforts meet every client's goals and expectations. Omnicore is a part of OmnicoreGroup.
Omnicore Agency DMCC
DMCC Business Centre
Phone: +971 (0) 501505639
Email: info(at)omnicore.ae