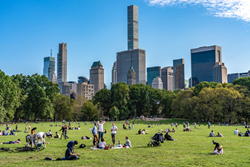 Despite some concerns over city living early in the pandemic, Americans rediscovered their love of living in big cities like New York where they created families of choice—people with similar mindsets and values.
HONOLULU (PRWEB) February 18, 2022
During the Covid-19 pandemic lockdown, Americans gained ample time to re-consider personal wellness and sustainability--where they live, work and travel. Many fled large metropolitan areas like New York City for rural digs and simpler lives. Some went home.
A new national poll says that's changing. According to an Omnitrak online survey with a nationally representative sample of 25,700 Americans, New York City ranks as the #1 city Americans want to move to and #1 in terms of pride of place.
"For two years, Covid caused Americans to re-think big issues like where they live," said Pat Loui, Omnitrak Chair and CEO. "Despite some concerns over city living early in the pandemic, Americans rediscovered their love of living in big cities like New York where they created families of choice—people with similar mindsets and values. In fact, 6 of 7 Americans would consider moving to the Top 50 metro areas, which explains why NYC's softening demand at the start of Covid is roaring back, up more than 25 percent, per the National Realtors Association and Yahoo Finance. Interest in other Sunbelt metro areas like Nashville and Austin also drove record median home prices in those cities."
Omnitrak, a survey company specializing in tourism, resident sentiment and city pride, conducts research for Orlando, Houston, San Diego, Honolulu, and other destinations, launched its first Pride of Place poll in the fourth quarter of 2021 and found the following surprising results:
CITY MOVES

Eighty-four percent of Americans are interested in moving residences to the Top 50 Metro areas in the U.S. For 6 out of 7 Americans, New York ranks as the top city Americans want to move to. Others on the Top 5 cities to move to are: San Diego, Los Angeles, Nashville, and Seattle.
Rounding out the top 10 are Denver, Colorado Springs, Charlotte, Chicago, and, tied for 10th place, Miami, Jacksonville and Austin.
PRIDE OF PLACE

New York also ranks #1 in terms of Pride of Place. Americans rate NYC 8.5 on a 10-point city pride scale with 10 extremely proud and 1 not at all proud to call that city "home."
Except for San Francisco which ranks second, Pride of Place aligns with cities that residents say are their first choice for re-location.
All Top 5 cities where Americans would move to rank first, second or third in terms of Pride of Place.
San Diego grabs second place for preferred place for re-location and third for Pride of Place (where it is tied with Boston).
Los Angeles ranks third in re-location and fourth on Pride of Place, where it is tied with Chicago.
Nashville and Seattle ranked fourth and fifth for a place to move to, both move down a slot to fifth and sixth respectively on pride of place.
IMPACT

Four of the 6 states that will gain Congressional seats as a result of the 2020 Census are represented in ranking of cities Americans want to move to. Florida has 2 cities (Miami and Jacksonville), as does Colorado (Denver and Colorado Springs); Texas has Austin, and North Carolina, Charlotte. Despite growth in the past decade, the more rural states of Oregon and Montana are not represented in the Top 10 metros to move to.
12 cities rate in the Top 10 as places to move to. Seven of these 12 cities are in the Sun Belt--San Diego, Los Angeles, Nashville, Charlotte, Miami, Jacksonville and Austin. Others are dispersed throughout other regions: Mountain (Denver and Colorado Springs, CO), the Northeast (NYC), Pacific (Seattle), and Central (Chicago).
Cities' re-location appeal aligns with pride of place, except for San Francisco, which ranks 2nd in pride of place but 12th in terms of a city Americans say is their top choice to move to.
Americans interested in moving to New York, Los Angeles and Nashville say Opportunity describes why they would be proud to live in these cities. City pride plays an influential role as metro areas compete to attract talent in the ongoing "Great Recruitment."
Chris Kam, President and COO of Omnitrak said, "This new phase has cities examining what will make their metro areas more appealing to the resident they want to attract and the culture to reinforce. Leadership aims to monetize 2022 into a stable and growing community. It's creating a genuine atmosphere of wellness and therefore attracting many levels of prosperity and balance.
'Houston has done an excellent job of examining what attracts young families: building good schools, welcoming a cultural mix, space-age work and great arts and entertainment support. Hawai'i has a movie and TV production industry. New York City's multi-ethnic scene means a vibrant dining scene, shopping areas, and style. People arriving or returning to metropolitan life are optimistic and looking for opportunity in a new way--with wellness and sustainability deeply embedded into their values."
MOBILITY MADE A FRIEND ALONG THE WAY…Who Let the Dog Out?
WFH created Pawternity–the odd new term for time off from work spent with a home-alone pup. Pandemic lack of human love meant pent-up pet love demand that resulted in stress on vets, dog walkers, and rising Petco sales, pet food scarcity, along with fears of what would happen once people returned to work, went out more frequently, or left on vacation.
People considered Pet Tinder and 2021 was declared the height of pet abandonment by Animal Shelters.
"Metropolitan lifers love pets even as the crowds return," Omnitrak's Kam said. Top cities for pets are Omaha, Baltimore, Louisville, Atlanta, Chicago and New York City. I see this as a continuing trend as infections and new Covid variants are still fresh concerns. People are relying on the stability of pet companionship."
Other Omnitrak top 2022 predictions for city slickers are:
1. Heightened and continued voluntary use of masks and anti-bacterial wipes
2. Activism for political sustainability awareness and environmental practices
3. WFH productivity combines with office interaction
4. Streaming entertainment and adult online learning
5. More fresh-air fiends learning to enjoy their own backyards
6. Initial resistance to business travel, leveling up to important group meetings as Zoom meetings continue
7. Women in business support of other women in business (even as competitors)
8. Business casual becomes acceptable office style
9. Return of nightlife at restaurant and bars
10. First-responder jobs are desirable and more lucrative
Ask us about these topics from our City Pride Research and give us questions you'd like us to ask in future research:
1. Why City Life Again? What changed? Which cities attracting the brightest and most talented?
2. Why certain cities are tops on the list
3. Profile of the mobile individuals
4. More on pets
5. Digging deep into the Top Ten City Pride trends predictions
6. Who to talk to in Houston on wooing desirable new residents
7. Pandemic effects and analysis on mobility
8. Quotes from the survey that are stirring and specific; quirky, moving or thoughtful.
About Omnitrak
Omnitrak, founded in Honolulu, Hawaii in 1981, is a leading strategic research firm with a strong presence in the consumer, travel and retail sectors in North America and Asia. Omnitrak works with some of North America's largest state tourism offices, which subscribe to the company's TraveltrakAmerica™ monthly tracking study of U.S. trips. The company serves a broad array of public- and private-sector clients, helping to grow their markets, develop new products and increase brand loyalty. For more information, visit http://www.omnitrakgroup.com.
Past Press Releases:

Omnitrak News: