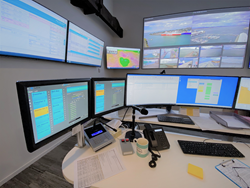 The option to use Commercial Off-The-Shelf hardware and Operating Systems givesTasPorts a high level of self-sufficiency.
PERTH, Australia (PRWEB) August 12, 2020
Tasmanian Ports Ltd. (TasPorts) has been a longstanding Omnitronics radio dispatch advocate, having over the last 2 decades used both the DX-64 and RediTALK-Flex radio dispatch systems for vessel traffic, pilotage, towage, cargo operations, security, emergency response and other marine and port operations.
When it was time for an overhaul of their ageing system, they decided to upgrade to the omnicore Scalable Enterprise Management System.
"Omnitronics Dispatch Systems have a track-record for copper-bottomed reliability in ports and other maritime and mission-critical environments", says Paul Whitfield, Omnitronics Research & Development Manager.
It didn't take busy TasPorts operators long to fathom how the new dispatch console works, within 20 minutes of going live, with minimal training, a duress call came in through the new system and was handled first rate.
omnicore has completed acceptance testing at TasPorts with flying colors and is hard and fast underway to manage TasPorts radio communications across the State.
High Availability and the ability to use their own servers as Virtual Machines for Redundancy and Disaster Recovery, including the option to use Commercial Off-The-Shelf (COTS) hardware and Operating Systems, enables TasPorts to retain a desired high level of self-sufficiency in supporting their user equipment.
omnicore Scalable Enterprise Dispatch is available to global customers in maritime and other mission-critical industries immediately.