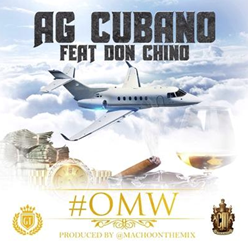 I'm going somewhere and I'm going to be someone that people pray everyday to be. I'm not gonna let them down. I'm not gonna let me down.
New York, NY (PRWEB) September 18, 2015
The fiery and excited collaboration between West Coast Hip Hop Artist AG Cubano and East Coast Hip Hop & Reggaeton artist Don Chino refreshes the vibes and kicks more dust on the West Coast and East Coast hip hop rivalries of the past. Their new single "ON MY WAY" (OMW) rings in a new era of bi-coastal artist collaborations, and is a testament to the unity amongst artists in today's hip hop arena.
AG Cubano and Don Chino aren't your sleeper new artist types. These Latino artists have formidable pasts that have brought them to a place where the collaboration is a display of brotherhood in music. "ON MY WAY" is the result of a positive, independent trajectory for these creative powers and other artists under their CheckMate record label.
Previously supported as a Maybach Music Latino (MML) artist, AG Cubano paid his dues with his initial climb in his hometown of East Palo Alto in Northern California's Bay Area. With an initial nod from the Bay's The Demolition Men radio show, AG took off gaining momentum with collaborations alongside artists like The Jacka, San Quinn, and others. Mentored by Don Dinero, one of Hip Hop's early Hispanic (Cuban) artists, AG continued to grow in his desire to establish a name for himself. Collaborations in those early days outside of the Bay Area included work with Kendrick Lamar, Nipsey Hustle and others. His gaining notoriety was what caught the eye of Maybach Music and resulted in the artist's move to the East Coast with a stint in Miami and leading to collaborations with N.O.R.E and Pitbull. It was during his time in Miami that he began to set the framework for CheckMate and its mission. When asked about his reason for launching CheckMate, AG Cubano replied, "I'm seasoned right now. I learned my creativity in the Bay. Miami was where I learned the industry. It was like college for me. It's time for me to put all of that to practice."
Don Chino's story starts in the streets of Puerto Rico and the Spanish Rap culture. Reggaeton was the style that caught his eye and heart. With the death of his mother at the age of 14 and a rough transition to the streets of New York's Bronx burrough, Don Chino lived his lyrical experiences eluding the foster system, living on the streets and surviving in the rough New York street culture. Reggaeton was a fusion of R&B, Hip Hop, and house music and he appreciated the similarities that he heard around bonfires and underground basement parties. Music became his outlet and led to his work with the East Coast's DJ Rikiton who signed the artist to Black Key Entertainment. He continued his growth leading to even more expansive views of the many directions he could expand his music, busting through genre lines and fusing sounds to create new and exciting music tones. Determined is an understatement for this artist. When asked where he was going from here, Don Chino replied, "I'm going somewhere and I'm going to be someone that people pray everyday to be. I'm not gonna let them down. I'm not gonna let me down!"
With the coordination of manager Julio "Gold Toes" Sanchez who represents them both under the Gold Toes Entertainment label, the addition of PR label SEEN PR, Inc. and music publishing representation via Ange Jolie Publishing, Inc., CheckMate was fully realized and "ON MY WAY" became the first song to stamp the label's brand across the U.S. and bring the unique styles of these two artists to the forefront of U.S. radio. Produced by legendary producer Scoop DeVille, the official video for "ON MY WAY" (explicit) will be officially released Friday September 18, 2015. The song is available worldwide via GT Digital Distribution including iTunes and other digital stores.
Currently playing on HOT 97.1 WQHT FM in New York, NY, 106.1 KMEL-FM in San Francisco, CA (DJ Big Von), HOT 105.7 KVVF-FM in San Jose, CA (Chuy Gomez), 107.5 KXJM-FM in Portland, OR (The Breakout Show), The Box 97.9 KBXX FM in Houston, TX (DJ Michael 5000 Watts), and The Beat 93.1 FM Amarillo, TX (Latin TakeOva), "ON MY WAY" is on its way to a national position. and more for these two talented Latino artists. Follow these artists via Instagram: @AGCubano @IAmDonChino
For booking and features contact Gold Toes Entertainment: goldtoes415(at)yahoo(dot)com. For PR/Media contact SEEN PR, Inc.: ideleon(at)seenprinc(dot)com