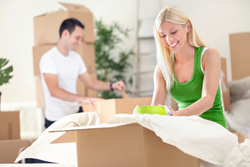 The key to a stress-free move is smart planning and getting the best help — something we excel in at On The Go Moving.
Seattle, WA (PRWEB) March 17, 2015
Most people will cringe at the mere mention of the words 'moving day.' Moving is not known as being an easy or carefree process, and the word can evoke memories of a wild and messy experience. But in the latest article from On The Go Moving and Storage, movers are given advice from the pros in 7 tips for a smooth and uneventful moving experience.
One of their first tips is to hire a great moving company. The article encourages homeowners to carefully investigate the reputation and services different moving companies provide, since they are not all created equal. Locating a locally owned, trustworthy moving company with a receptive and efficient team should be a movers highest priority.
Another of On The Go's fantastic tips is to take the moving process as an opportunity to purge the home of unnecessary belongings. The article says, "As a general rule, if you haven't even thought about using it, wearing it, or finding it for a very long time, you probably don't need it."
On The Go also suggests that movers be prepared to need a storage option. The article says, "Especially for those downsizing to a smaller living situation, it's easy to find that you don't actually have as much room in your new house as your originally expected." Storage services are also provided through On The Go Moving and Storage.
On The Go Moving and Storage is known for their accommodating services, professional skills and efficient manner. For more information about their moving and storage, visit their website at http://www.onthegomoving.co.
About On The Go Moving:
On The Go Moving is a professional moving service committed to providing reliable, efficient, moving services for individuals, families, and businesses in the greater Seattle area. Their emphasis on their effective and careful moving strategies has resulted in great service for an extensive amount of satisfied clients. For more information about On The Go Moving's services, simply visit their website at http://www.onthegomoving.com or call them at 425.761.8500