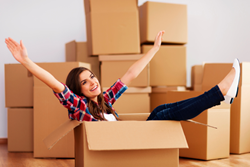 Staying organized is the key to staying sane during a move.
Seattle, WA (PRWEB) April 17, 2015
"Moving day is usually viewed with great trepidation by movers throughout the Seattle area. But if you follow a few of our professional moving secrets, you can stay sane and confident throughout your entire packing and moving process," says On The Go Moving and Storage in their recent article that gives movers 5 tips on how to stay sane during a move.
Their article opens with their biggest secret to successful moving - a master moving plan. This isn't just for homeowners and renters, either. They explain that when they plan a moving service with their clients, they create a master moving plan as well. This keeps everything organized and running smoothly throughout the day.
For family moving, however, it is just as important (if not more so) to create a master plan list of everything that needs to be done before, during, and after the move.
"Staying organized is the key to staying sane," they say, "so by writing down everything that you need to do, you won't forget things and will help your mind to stay uncluttered and stress-free."
Other recommendations they address in their article include how to use the right packing and moving materials, when to run errands, and how to go about packing up and labeling boxes.
To learn more, visit their website: http://www.onthegomoving.co/large-residential-moving/
About On The Go Moving:
On The Go Moving and Storage is a professional moving service committed to providing reliable, efficient moving services for individuals, families, and businesses in the greater Seattle area. Their emphasis on their effective and careful moving strategies has resulted in great service for an extensive amount of satisfied clients. For more information about On The Go Moving's services, simply visit their website at http://www.onthegomoving.com or call them at 425.761.8500.