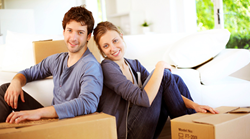 Self-storage units are not the best choice when storing valuables, heirlooms, or sensitive items, such as electronics, musical instruments or antiques.
(PRWEB) March 28, 2015
Many families are faced with a need to put valuable items into a secure storage space at one point or another. Tempting as it may be to simply store them in whatever space is most most convenient, the latest article from On The Go Moving and Storage warns homeowners against storing precious items in non-climate controlled spaces that could damage their valuable items.
Families sometimes find themselves laden with all kinds of family heirloom and collectables they do not have space for, but do not want to sell or give away. Unfortunately, these valuable items, such as antique glassware, furniture, paintings, and wine, are all very sensitive to moisture and heat/cold exposure. The article states "These items are not able to be safely stored in self-storage units or areas that are not temperature-controlled."
Electronics, instruments, books, and photographs, are also at very high risk of experiencing damage from varying temperatures and moisture levels. These, along with many other valuable items mentioned in the article, should be stored in climate controlled spaces.
On The Go Moving and Storage states in the article, "If you don't research beforehand to protect sensitive items, you could lose a lot of valuable and/or sentimental belongings."
It is recommended to homeowners that valuable items be stored in a separate, temperature-safe storage vault. On The Go Moving and Storage offers these vaults to all their moving customers. For more information, visit their website at http://onthegomovingandstorage.com/services/
About On The Go Moving:
On The Go Moving is a professional moving service committed to providing reliable, efficient, moving services for individuals, families, and businesses in the greater Seattle area. Their emphasis on their effective and careful moving strategies has resulted in great service for an extensive amount of satisfied clients. For more information about On The Go Moving's services, simply visit their website at http://www.onthegomoving.com or call them at 425.761.8500.