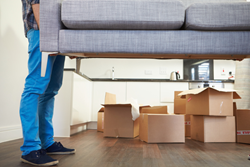 Take the stress out of moving by hiring a moving company.
Seattle, WA (PRWEB) October 13, 2014
"Moving can be a tricky business," says On The Go Moving in their recently released article, "Furniture, boxes, household items are all packed neatly into a truck and moved to a new location where the process is reversed."
On The Go Moving is a professional moving company serving individuals, families, and businesses in the greater Seattle area. They're committed to top-notch service and dependability, and they have a unique ability to, as they say, "Take the stress out of moving."
Everyone agrees that moving is a huge transition—a new home, a new life, and a new situation. There is a lot of change involved in moving. On The Go Moving talks about the added emotions and stress of the moving experience, assuring clients that they can "take the stress out of moving."
The article explains On the Go Moving's procedural philosophy, emphasizing that they're more focused on efficiency as opposed to sheer speed. While it's important for a moving team to not waste time, rushing through the process often results in an incomplete job accompanied by mistakes.
Instead, On The Go Moving is committed to efficiency but is also careful in the process, ensuring that they see jobs through to the end.
The article also notes that, "As with each and every move we've done, difficulties arise and plans change. There are times when parking issues, narrow stairwells, elevators, or a need for additional movers will shake things up a little. However, our experience and skill allows us to handle those hurdles with ease and agility."
The team at On The Go Moving is professional, reliable, and simply a great group of guys. On a busy day of moving, anyone would be grateful to have their exceptional assistance.
The article concludes saying, "A 10 minute conversation will get you scheduled with us, and we can talk through some details as well. As the day of your move gets closer, we'll be in further communication with you regarding logistics and personnel needs. We look forward to hearing from you."
About On The Go Moving:
On The Go Moving is a professional moving service committed to providing reliable, efficient, moving services for individuals, families, and businesses in the greater Seattle area. Their emphasis on their effective and careful moving strategies has resulted in great service for an extensive amount of satisfied clients. For more information about On The Go Moving's services, simply visit their website at http://www.onthegomoving.com or call them at 425.761.8500.