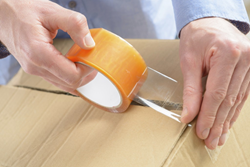 One of the more intriguing suggestions is the variety of brightly colored duct tape.
Kirkland, WA (PRWEB) April 29, 2015
Moving professionals at On The Go Moving And Storage know that the packing process can be a trying and stressful time for homeowners and renters. For those choosing to pack themselves, rather than obtain the packing services of a moving company, there are some tricks and tips to staying sane during the packing process, and On the Go Moving is willing to share one of them - "Everything You Need in Your Packing Survival Kit"
This newly released article has been helping movers throughout Seattle and the surrounding areas pack and move more efficiently. How? It's done by having everything they need for their packing process in one simple box.
"When you are packing, things get moved around, shifted, lost, and sometimes even seem to magically vanish behind your back. To avoid this when it comes to your packing materials, as a professional moving company, we suggest that you find yourself a plastic box of medium size that you label in appropriately loud letters, 'Packing Survival Kit'," says On The Go Moving and Storage.
Into this box goes a variety of items. One of the more intriguing suggestions is the variety of brightly colored duct tape. For movers that are moving large amounts of belongings (such as small to large families or small to large residential homes), color-coding the boxes with bright duct tape will help them stay organized, while packing, while moving, and while unpacking.
To learn more about this trick and the other vital tools to keep in a packing survival kit, go to their website here: http://www.onthegomoving.co/large-residential-moving/
"Don't let your packing stress you out," says On The Go Moving and Storage, "By following our tips or getting help from one of our professional packing and moving crews, we'll keep your belongings safe and your family from going crazy in the process!"
About On The Go Moving:
On The Go Moving is a professional moving service committed to providing reliable, efficient, moving services for individuals, families, and businesses in the greater Seattle area. Their emphasis on their effective and careful moving strategies has resulted in great service for an extensive amount of satisfied clients. For more information about On The Go Moving's services, simply visit their website at http://www.onthegomoving.com or call them at 425.761.8500.