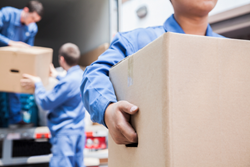 Self-storage units present a variety of possible damages to your belongings, but storage vaults with On The Go Moving are completely safe.
Remond, WA (PRWEB) March 12, 2015
Finding storage for boxes, large items, or family heirlooms is a process that seems to have been made easy through self-storage units. However, the new article from On The Go Moving and Storage discusses some of the disastrous results of using unsafe or improper storage units.
One of the largest hassles for storage-space renters is knowing how much space to rent. Not renting enough space can require storage elsewhere, while paying for too much space leaves renters spending money on space they're not using. The unique storage vaults at On The Go Moving and Storage eliminates this problem.
Along with several other threatening qualities, self-storage spaces generally lack sufficient climate control to protect the condition of their contents. The article states, "Items that require temperature control include musical instruments, electronics, photos, vinyl, artwork, and heirlooms — and those are just a few."
An additional hassle that self-storage space renters encounter is the need to strategically place and stack boxes, furniture, and other items to get the most usage out of their space. The services available at On The Go Moving and Storage includes the work of experienced teams in the organizing and storing process.
On The Go Moving and Storage states, "We know exactly how to stack and pack things to keep them safe, keep them organized, and to fit them into the vault beautifully."
For more information about the services offered by On The Go Moving and Storage, visit their website at http://www.onthegomoving.co.
About On The Go Moving:
On The Go Moving is a professional moving service committed to providing reliable, efficient, moving services for individuals, families, and businesses in the greater Seattle area. Their emphasis on their effective and careful moving strategies has resulted in great service for an extensive amount of satisfied clients. For more information about On The Go Moving's services, simply visit their website at http://www.onthegomoving.com or call them at 425.761.8500.