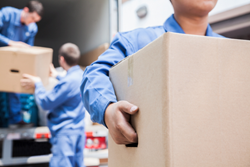 We are proud to announce that we will now be offering exclusive storage services for our moving clients!
Seattle, WA (PRWEB) February 19, 2015
"We've found that many of our moving clients require storage — temporary and long term," says On The Go Moving when asked why they have chosen to expand their moving service to include storage options for their clients. It was a hassle for them to find public storage unit, make sure that their belongings were properly wrapped up, load them into the unit, and so on. Inconvenient, expensive, and a hassle."
This expansion, with doors opening on March 1st, will offer exclusive storage services for On The Go Moving clients.
The article released to announce this expansion explains that, rather than individual storage chambers or units that are publicly accessible, as with public storage, On The Go Moving will place their clients items into large wooden storage vaults.
These vaults will be kept securely in their temperature controlled warehouse, safe from any danger of break-ins, water damage, or other concerns that plague those renting from public storage companies.
While security and safety are a top priority, On The Go Moving explains that a significant part of the reason they chose to offer these additional services is about the convenience and added protection for their clients.
The moving process is a stressful one — especially for those who required storage units to place excess belongings, both temporarily and long term. By offering to take these items directly to the storage location in the moving truck and loading the vaults with their professional moving team, On The Go Moving makes the move easier.
Additionally, all the padding and wrapping that was used to secure the items during the move can remain in place while in storage, rather than being removed as would be the case with a client who chose to use public storage. This, again, makes the moving day much easier, and it provides additional protection against scratches and damage while in storage.
For more information about On the Go Moving and Storage, follow this link: http://www.onthegomoving.co/
About On The Go Moving:
On The Go Moving is a professional moving service committed to providing reliable, efficient, moving services for individuals, families, and businesses in the greater Seattle area. Their emphasis on their effective and careful moving strategies has resulted in great service for an extensive amount of satisfied clients. For more information about On The Go Moving's services, simply visit their website at http://www.onthegomoving.com or call them at 425.761.8500.