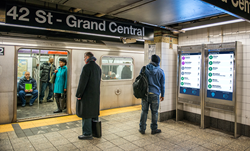 Delivering a better experience for commuters and visitors.
Medfield, MA (PRWEB) March 18, 2014
Comark is pleased to announce their collaboration with Control Group on the MTA On the Go project has been honored with the prestigious Digital Screenmedia Association 2014 Award of Excellence for "Best Travel/Hospitality Self-Service Interactive Kiosk."
Comark, in partnership with Control Group and MTA New York City Transit, recently installed 18 of the award winning interactive kiosks at the 42nd St – Grand Central subway station as part of the proof of concept phase of the On the Go program. These rugged stainless steel kiosks with large 47" high-definition LCD displays, integrated projected capacitive touchscreens, cameras and speakers feature a user friendly wayfinding experience and other relevant information including real time departures, arrivals, delays and service updates as well as points of interest and advertising content.
Massachusetts based Comark is the engineer and manufacturer of the rugged user friendly On The Go Travel Station kiosks, which was previously awarded "Outstanding Project of the Year for Advanced Traveler Information Systems" by Intelligent Transportation Society of New York (ITS-NY) in 2012 for the initial pilot of 5 kiosks.
Comark has been working closely with the MTA New York City Transit and high tech design firm Control Group for more than two years to create these new interactive kiosks with the goal of delivering a better experience for commuters and visitors while generating a new revenue model for the MTA. The New York MTA along with Control Group and Comark plan on installing an additional 72 kiosks in subway stations over the next several months.
To learn more about this project or other products and services of Comark, please contact Scott Plesh at 508-359-8161 ext.115 or by e-mail at splesh(at)comarkcorp(dot)com For detailed product information, please visit Comarks web site at http://www.comarkcorp.com.
About Comark Corporation
Comark designs and manufactures high performance and ruggedized kiosk, computer and display solutions for mission critical applications for self service as well as building automation, industrial automation, military and marine applications. The self-service division designs and manufactures a variety of standard and customized kiosk and digital signage solutions for transit, retail and self-service applications. Many of the same design and manufacturing techniques from the military solutions are used in the kiosk solutions to provide long term reliable service. Comark is driven by more than 38 years of innovation and experience with over 80,000 systems fielded.