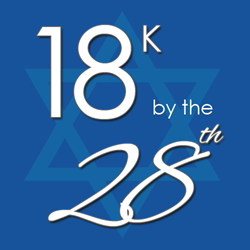 How can people who have been through so much be allowed to continue to suffer?
Rockville, MD (PRWEB) March 25, 2014
A third of Holocaust survivors live below the poverty line. It's a mind-boggling statistic that defies reason. How can people who have been through so much be allowed to continue to suffer? It's why On The Marc Media, a Washington, DC area multimedia company, is teaming with the New York-based charity The Blue Card for what we call: '18 By the 28th.' The goal: raise at least $18,000 by April 28th, which is Holocaust Remembrance Day (Yom HaShoah).
Why are so many survivors in need? The reasons vary. Among them: little or no existing family for support; emotional, physical or mental issues from the horror of their past; and little income from the menial jobs they were forced to take when they relocated to the United States. Many now survive on food stamps, Medicaid or other government assistance that barely cover daily expenses. Imagine, at an advanced age, living alone on your meager life savings. Should you use it for food or much needed medicine? Can you afford to visit the doctor? Maybe, you should just ignore that toothache because you can't pay the dentist and still have enough to pay for the ambulance that took you to the ER when you fell in the middle of the night. These are choices nearly 25,000 survivors in the United States confront on a daily basis.
Contributions raised by the '18 By the 28th' campaign go directly to The Blue Card, and specifically, its Emergency Response 'Panic Button' Program. Those devices--which charity officials say are vital, allow seniors to request aid in emergency situations such as a fall or stroke. The $18,000 will help 200 survivors with installation and maintenance of the service. As many people know, 18 is the word chai in Hebrew, which also means 'life.'
The Blue Card was first founded in 1934 in Germany to support Jews affected by the Nazi regime. It was re-established in the US in 1939 to continue enriching the lives of refugees. One hundred percent of the funds raised for the charity goes to help survivors. (The organization covers its administration costs with legacies and grants.) Donations will be processed through Crowdrise, a crowdfunding platform that charges up to five percent for administrative fees. (For more information on those fees, please click here.)
On The Marc Media plans to promote the campaign through frequent updates and interviews on its Facebook, Twitter and other social media channels, along with outreach to youth groups, synagogues, churches and others. "If we can get a thousand people to donate just $18 apiece, we've met our goal," says Marc Silverstein, founder of On the Marc Media. "But all donations, big and small are welcome, and just as importantly, we're asking everyone to share the information through social media or any way you can. I'm confident people will have the same reaction we did when we first heard about the problem, which was 'How can we help?' Everyone deserves to live with dignity, and with the help of the community, these survivors will get a chance at their final years of life, dignity intact."
For more information about '18 By the 28th,' please contact Marc Silverstein at marc[at]onthemarcmedia[dot]com or at 301 545-0108. For information about The Blue Fund, please contact Masha Pearl at 212 239-2251.