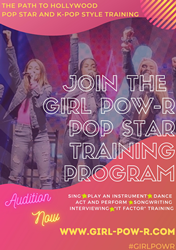 We all have a voice. Let's support positive change for the world, and embrace the energy of our youth to help make this a better planet!
TORONTO (PRWEB) November 20, 2020
In support of this year's theme for #WorldChildrensDay from the United Nations, "Investing in our future means investing in our children", Canyon Entertainment Group is launching the Girl Pow-R Training Program to build confidence and resilience, and promote international togetherness through song, dance, playing instruments and building skills.
In just three short years, from launch on March 8, 2017 (International Women's Day) to March 2020, Canyon Entertainment Group brought together a cadre of young girls who completed 200+ live performances, went on a U.S. tour and also made history by being among the first children to ever be nominated for a JUNO in the Children's Category for Album of the Year.
Too often, young people are influenced by the thoughts and life experiences of singers and musicians who are in their late teens and their 20's. Are these the right voices to be inspiring the youth of today? No. This Girl Pow-R Pop Star Training Program is an opportunity to build on a love of music among young people, and help them express their thoughts in family-friendly ways while also giving back to their communities by supporting social causes and advocating for positive change.
The Girl Pow-R Training Program is first being offered all across North America, from Canada to the United States and Mexico, to facilitate and grow awareness among young girls on how to better themselves so they can help improve the welfare of all children. Developing female leaders, who can help lead other young people, is critical to sustaining a positive environment for love, joy and compassion to spread.
Girl Pow-R was originally formed as an energetic group of young girls who set out to inspire others to do their best. The girls in the band represent different cultural, socio-economic and ethnic backgrounds, and the group embraces the elements of pop, rock and the newer genres like hip hop and rap, to communicate the Girl Pow-R message in positive ways.
The group has taken the audience on a unique journey as they have performed at live shows in North America and now perform online for a global audience, singing new, original music of extraordinary power and musical invention. Girl Pow-R's original music is uniting the talents of a diverse array of young people who are singers, dancers and musicians, in an unforgettable and unprecedented way.
Now, we are taking the disadvantages of this COVID-19 situation and turning it into an opportunity for a broad swath of young people to zoom in and participate in online courses delivered remotely to anyone, anywhere. Audition applications are being accepted and Canyon Entertainment Group is reaching out to sponsors so that among those who are chosen, there will be some scholarship opportunities offered for those families with a strong commitment, who are unable to pay the training fees.
Fundamentally, this is so much more than an artist development program, as it offers training in life skills such as interviewing and understanding your passions and purpose in life, as well as confidence-building stage performance skills that help to overcome the hesitation to speak in public, along with how to set a path to achieve personal success. Building self-sufficiency is critical in this ever-changing world.
Anyone can audition through the online video submission process on the website: https://www.girl-pow-r.com/girl-pow-r-pop-star-training-program/.
Let your voices be heard in song, let your voices be heard in social media with #GIRLPOWR, and support #WorldChildrensDay. We all have a voice. Let's support positive change for the world, and embrace the energy of our youth to help make this a better planet!
We are looking for performers and leaders who want to build a positive world with their energy and passion.
Canyon Entertainment Group empowers people through music. We represent a roster of high-caliber artists who inspire their fans every day. By constantly learning from our talented array of singers, songwriters and producers, we strive to create music, and live or online events, that spur positive change.
Apply to be a part of this Girl Pow-R movement, join the Girl Pow-R Training Program to inspire others, and improve and grow yourself so you can help lead others in this transformative process, as well.
For more information, contact us at info@girl-pow-r.com and submit your application via this website page: https://www.girl-pow-r.com/girl-pow-r-pop-star-training-program/