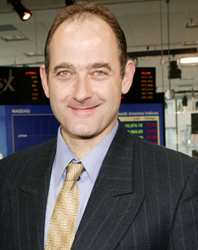 Vancouver, BC (PRWEB) September 15, 2014
Ondine Biomedical Inc. is pleased to announce that Dr. Nicolas Loebel, its President and Chief Technology Officer, will be presenting at the 10th International Symposium on Photodynamic Therapy (PDT) and Photodiagnosis in Clinical Practice. The 2014 Symposium, which is being held in Brixen/Bressanone (Italy) from October 14-18, 2014 alongside the Congress of the European Platform for Photodynamic Medicine on October 13-14th, is an annual conference at which the international leaders in the field of Photodynamic Medicine convene to discuss developments and advancements of the field over the next decade.
Having taken 3 Photodisinfection-based products to market, Dr. Loebel will be presenting to the International Photobiology community Ondine's 15 year pre-clinical and clinical results across several applications in a presentation entitled, "Antimicrobial photodynamic therapy: a decade of development and clinical study".
Photodisinfection, known as antimicrobial PDT (aPDT) within the scientific community, is a non-antibiotic, antimicrobial technology for the treatment of topical infections resulting from a broad spectrum of pathogens including all virus, fungus and bacteria and their virulence factors. Photodisinfection is a proven safe and highly effective anti-biofilm therapy that inactivates the host inflammatory response resulting in much improved patient outcomes. Unlike antibiotics, Photodisinfection does not generate resistance, even at sub-dosage, and is therefore ideal for multiple repeat usage. Photodisinfection was invented by Professor Michael Wilson of the Eastman Dental Institute, University College London in the mid 1980's to address the oral infection market such as periodontal disease and peri-implantitis.
Since 1998, Ondine has developed seven Photodisinfection-based products including for the dental (Periowave™), sinusitis (Sinuwave™), wounds (Steriwave™), and hospital acquired infection markets. Products that are currently being developed for the 3 most common hospital acquired infections (HAI) include therapies for the prevention of ventilator associated pneumonia (Exelume™), urinary tract infections and surgical site infections (MRSAid™). Canadian based Ondine is presenting as the global leader in the Photodisinfection technology (antimicrobial PDT) and the premier developer of Photodisinfection based products and protocols.
About Ondine Biomedical Inc.
Ondine Biomedical is the global leader in Photodisinfection based medical devices, developing non-antibiotic therapies primarily for the healthcare-associated infection (HAI) market. Photodisinfection provides broad-spectrum antimicrobial efficacy safely, without encouraging the formation and spread of antibiotic resistance. The Company is based in Vancouver, British Columbia, Canada, with a research and development laboratories in Bothell, Washington, USA and Minneapolis, Minnesota. Please visit the Company's website at: http://www.ondinebio.com and http://www.ondineblog.com. For further information please contact us at Ondine Biomedical Inc.: info(at)ondinebio(dot)com