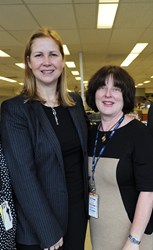 Ondine Biomedical announces that the Vancouver General Hospital (VGH), the first hospital to deploy its MRSAid™ Photodisinfection system, was selected as the recipient of the Innovation Award.
Vancouver, British Columbia (PRWEB) July 17, 2013
Ondine Biomedical Inc. announces that the Vancouver General Hospital (VGH), the first hospital to deploy its MRSAid™ Photodisinfection system, was selected as the recipient of the Innovation Award at the 2013 International Consortium for Prevention & Infection Control (ICPIC). Endorsed by the World Health Organization (WHO), ICPIC is a prestigious international conference that brings together more than 1,200 leaders in infection control from 84 countries. The goal of the ICPIC conference is to exchange best practices, highlight current research in the field and share innovations in infection control. This is the first time that a Canadian institution has been recognized for infection control innovation at ICPIC.
Dr. Elizabeth Bryce, Regional Medical Director for Infection Control at Vancouver Coastal Health, served as the VGH Team Leader and spearheaded the universal non-antibiotic decolonization program that was associated with significant reductions in the rate of surgical site infections at VGH. Surgical site infections often result in increased patient morbidity and mortality rate. Patients who develop infections after surgery are five times more likely to be readmitted to a hospital, and twice as likely to die. According to the World Health Organization, surgical site infections are responsible for billions of dollars of unnecessary health care costs around the world.
The World Health Organization has stated that "a high percentage of hospital-acquired infections are caused by highly resistant bacteria such as methicillin-resistant Staphylococcus aureus (MRSA)." In major trials, it has been demonstrated that pre-surgical decolonization of the patient's nose of MRSA, prevalent in up to 5% of patients, as well as elimination of non-resistant Staphylococcus aureus (MSSA), prevalent in up to 35% of patients, results in significant reductions in hospital-acquired infection rates.
The multidisciplinary VGH team received the ICPIC Innovation Award for developing and validating a non-antibiotic pre-operative universal decolonization protocol which demonstrated significant reductions in surgical site infections and health care costs. The VGH universal decolonization protocol, which is now standard protocol at VGH, featured Ondine's patented nasal decolonization product, MRSAid, a non-antibiotic therapy that eliminates harmful bacteria from within the patient's nose. Bacteria that populate the nose, such as the superbug MRSA, can infect patients who are immunocompromised, or weakened after surgery. MRSAid involves a 5 minute procedure immediately prior to surgery, during which a photosensitive solution is placed into the nostrils and activated by a painless, low-power light. Bacterial pre-screening of patients is eliminated in the VGH protocol, removing a costly labour and administration component. No patient compliance is required, unlike traditional decolonization protocols.
Recent studies have concluded that less than 35% of patients fully comply with topical antibiotic protocols for nasal decolonization, where traditional antibiotic creams are placed into the nose twice daily for 5 - 7 consecutive days. In addition, researchers are concerned about even further upregulation of resistance caused by these protocols. Decolonization by the MRSAid Photodisinfection System prior to surgery does not rely on patient compliance, nor does it generate resistance.
The World Health Organization has identified antibiotic resistance as a top global health issue. The antibiotic crisis is compounded by lack of profitability and lack of incentives for drug companies to develop new classes of antibiotics. No new class of antibiotic has been developed since the late 1980's and there are currently very few new antibiotics in the pharmaceutical industry pipeline. Ondine develops Photodisinfection based therapies to treat or prevent infections in order to reduce dependency on the existing stock of antibiotics.
Ondine congratulates Dr. Elizabeth Bryce, Dr. Bassam Masri, Dr. Diane Roscoe, Dr. Titus Wong, Dr. L. Forrester and the entire Vancouver General Hospital Pre-operative Decolonization Therapy Team for their well-deserved recognition.