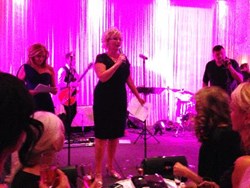 Ondine Biomedical congratulates Crystal Gala Foundation Committee for meeting their 2013 fund raising milestones, as they continue to support innovation needed to ensure the very best patient hospital care in the Abbotsford Community.
Vancouver, British Columbia (PRWEB) November 21, 2013
Ondine Biomedical Inc. is pleased to announce that a second hospital in British Columbia, Canada will be implementing its MRSAid™ Nasal Decolonization System in order to reduce the rate of surgical site infections. At the recent Crystal Gala Foundation fundraising soiree, the news to implement this novel, Canadian based technology in the Abbotsford Hospital was announced. The Crystal Gala Foundation, which celebrated its 15th anniversary, has been a lead contributor of A Campaign for HealthCare Excellence supporting the new Abbotsford Regional Hospital and Cancer Centre, including the Crystal Gala Breast Health Unit.
With the Abbotsford Hospital already enjoying one of the lowest surgical site infection rates in British Columbia, the Crystal Gala Committee undertook a fundraising campaign to bring Photodisinfection technology to the Abbotsford Community in the pursuit of patient care excellence. The MRSAid Nasal Decolonization technology has been deployed at the Vancouver General Hospital since 2010 as part of a new universal patient decolonization program and has resulted in a 42% reduction in surgical site infections. Earlier this year, the VGH team led by Dr. Elizabeth Bryce, was selected as the recipient of the Innovation Award at the 2013 International Consortium for Prevention & Infection Control (ICPIC). Endorsed by the World Health Organization (WHO), ICPIC is a prestigious international conference that brings together more than 1,200 leaders in infection control from 84 countries. VGH was the first Canadian hospital to be recognized by this organization.
Patients carrying Staphylococcus aureus in their noses, when immuno-compromised by surgery, run a higher chance of contracting a surgical site infection. Surgical site infections often result in increased patient morbidity and mortality rate. Patients who develop infections after surgery are five times more likely to be readmitted to a hospital, and twice as likely to die. According to the CDC hospital, acquired infections are responsible for about US$30 billion of dollars of unnecessary health care costs in the US alone without factoring the impact of loss of life or income. The World Health Organization has stated that "a high percentage of hospital-acquired infections are caused by highly resistant bacteria such as methicillin-resistant Staphylococcus aureus (MRSA)." In major trials, it has been demonstrated that pre-surgical decolonization of the patient's nose of MRSA, prevalent in up to 5% of patients, as well as elimination of non-resistant Staphylococcus aureus (MSSA), prevalent in up to 35% of patients, results in significant reductions in hospital-acquired infection rates. MRSAid™ is a non-antibiotic therapy that eliminates nasal bacteria without inducing resistance, and is therefore ideal for universal decolonization programs and multiple use requirements such as for health care workers.
Ondine Biomedical Inc. wishes to congratulate the Crystal Gala Foundation Committee (Gerri Charles, Chair, Dorothy Dyck, Brittany Manulak, Sandy Ellis, Susan Bubra, Aman Gill, Jessica Germaine, Tanya Curtis, Amanda Rushton, Dixie Jacobson and Chris Franklin) for meeting their 2013 fundraising milestones, as these ongoing efforts continue to support innovation needed to ensure the very best patient hospital care in the Abbotsford Community.