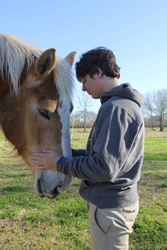 It will take years to rebuild the community but these boys don't have years. They need helping hands right now. Help find one-fourth of one million people who will donate one dollar. It's that simple!
Philadelphia, Pennsylvania (PRWEB) September 13, 2016
A regular Mom, in a regular neighborhood is trying to rally a super hero effort to restore a ranch and return some boys in crisis to the home they lost. Oh, and by the way the ranch is in Zachary, Louisiana which is approximately 1,200 miles away from that regular Mom in her regular neighborhood outside of Philadelphia. The Ranch that needs to be bailed out is Heritage Ranch Christian Childrens' Home. It is a 52 acre working ranch that houses young boys (ages 13-17) who have experienced a family crisis. While living at the ranch, they attend school, work chores and participate in personal and family counseling. The ultimate goal is to restore a family to a healthy, nourishing place.
On August 13, 2016 unprecedented rain fell in the 20 parishes surrounding Baton Rouge. Four feet of flood waters washed across the Ranch. Staff, the boys and animals had to be evacuated. When the rain water receded it was assessed that over 60,000 homes and 20,000 businesses were damaged by flood waters. The estimated financial cost to restore the area exceeds investment in New Orleans after Hurricane Katrina. To compound the devastating effect of the flood, approximately 70% of those buildings were NOT in a flood zone therefore they could not get flood insurance. To add insult to injury Heritage Ranch is a 501(c) 3 non-profit and therefore is not eligible for FEMA assistance. Their only options to rebuild and reopen are to secure small business loans and to raise the funds from generous donors.
The boys remain displaced. Over the last month, the Staff, volunteers and the boys have removed unsafe and damaged materials. Most of the animals have been able to return to the Ranch. The residence and offices, however, remain stripped down to the stud walls and require extensive renovation.
Heritage Ranch is a second home to these boys. They have bonded with one another and refer to Ranch House parents and Staff as family. Their relationships with the animals on the ranch are strong and serve as lessons in caring, responsibility and building trust. It is imperative that the boys are returned to the Ranch.
"So many people ask, why take on this daunting goal?" says Cindi Sutera, Founder of Adaptive Marketing Solutions. "The only answer is because when you know better, you have to do better. Witnessing the devastation in Port Au Prince, Haiti shortly after the earthquake, as well as helping in the clean up along the Jersey shore after Hurricane Sandy, left a meaningful impression. Further inspiration comes from the expressions of hope from people who just need a helping hand, it is impossible to sit back and wait. The people in the Baton Rouge area will be years repairing and restoring their communities. The Staff and boys of Heritage Ranch don't have years. They need a big helping hand right now."
A fundraising Gala was planned for Friday, September 16, 2016 to help raise annual operating costs. This Gala quickly shifted the goal. Heritage Ranch Founder, Vicki Ellis estimates that the Ranch needs $250,000 to rebuild, restore and re-open the boys' home within the next few months. "They have never raised this kind of money over such a short period in the past." continues Sutera "It is going to take a heartfelt effort from a larger community to rebuild the ranch and return these boys to their home. What is needed is one-fourth of one million people to pledge one dollar. If someone is inspired to give for a family, group or a club, the added funds are appreciated and will go to great use. Please take one moment, donate one dollar, and share these links with one friend. Together, the effort will bring these boys home. Thank you.
Additional information and videos from the Ranch can be found at http://www.vimeo.com/HeritageRanch . That site also has a link to http://www.HRBR.org where donations are being collected.
# # #
Cindi Sutera is Founder of Adaptive Marketing Solutions a boutique marketing firm specializing in small and medium sized business market strategy, social media and public relations. Cindi has three (3) children who along with a group of friends founded Teens Against Poverty in 2006. This 501(c) 3 non-profit enabled local kids to raise money through fun activities for other children in need – locally and globally. As an advisor to Teens Against Poverty, Cindi was able to travel to Haiti and northern New Jersey after natural disasters to help with relief effort. A mantra that Cindi tries to instill in her family is 'when you know better, you have to do better.'
Heritage Ranch is a unique residential childcare model in the southeast Louisiana. The Ranch serves children in the midst of personal or family crisis that require respite, outside the home, for a period of time. Youth, ages 13-17, live in a family-style home receiving counseling and educational support. The Ranch is staffed by a trained husband and wife couple allowing for the creation of a family environment. Child placement is generated through a referral network of social services and reunification as its primary goal. Each child who lives at the Ranch, together with the child's parent(s) or guardian(s), commits to actively participate in the program including counseling for the entire family. The rural setting is key for creating environmental change for each child and provides a supportive context for modeling family, faith and community values. For more information visit http://www.hrbr.org