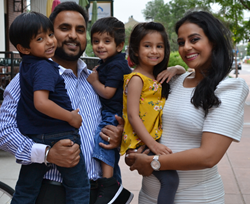 "Being able to bring my passion and unparalleled care to the families of Parker is absolutely my privilege and my honor."
PARKER, Colo. (PRWEB) November 14, 2018
Dr. Amisha Singh, recognized as one of the 2018 Top 10 Under 10 ADA Dentists nationally, opened the doors to her dental practice, Smile Always Dental in the summer of 2018. As the founder of Founder of the CDA Institute for Diversity in Leadership and a proud member of the CDA House of Delegates, the ADA Dental Wellness Advisory Committee, and the MDDS and CDA Membership Councils, Dr. Singh has an arsenal of experience under her belt that she is eager to share with her patients.
Dr. Amisha Singh's vision for Smile Always Dental is to provide an environment that emphasizes the importance of the doctor-patient relationship. Unlike many dental practices in the community, Dr. Singh commits herself to caring for her patients and their families.
Smile Always Dental Values:
Compassion
Dr. Amisha Singh has a family of her own; she knows what it takes to care for not only adults, but also children and infants. Because of her personal values, she takes great pride in providing an enhanced, unparalleled experience to everyone.
"As a mother of two young boys, I understand how important optimal family-oriented care can be and that is why, with Smile Always, I have created a dental home with individualized care for all."
Innovation
Smile Always Dental uses some of the most cutting-edge technology. Dr. Amisha Singh is especially talented at integrating traditional methods of dental health with the newer technology to create a well-rounded plan best fit for her patients. Dr. Singh also continuously educates herself on advancing technology to ensure her patients are getting the best. At Smile Always Dental, Dr. Singh is proud to announce her utilization of the new, digitally-enhanced, oral cancer screenings and cone beam imaging.
Dedication
Because she understands that methods, best-practices, and technology are constantly changing, Dr. Amisha Singh is always a student of her craft. She has dedicated her career to being the most curious and knowledgeable dentist.
Support
Dr. Singh commits not only to her patients, but also to the dental community; she teaches for different dental organizations nationally and she is recognized as an ADA Success Speaker. Dr. Singh asserts that her knowledge means nothing if she isn't sharing it with others. Her ultimate goal is to spread awareness and excellent dental health to not just her patients, but to dental patients everywhere.
"Being able to bring my passion and unparalleled care to the families of Parker is absolutely my privilege and my honor."
Smile Always Dental is located at 10521 S. Parker Rd. Suite E, Parker, CO 80134 and is now accepting both adults and children as patients. Visit our website or schedule your consultation today. https://smilealwaysdental.com/