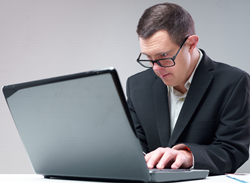 People with intellectual and developmental disabilities can be valuable assets to our workforce. Unfortunately, many businesses and employers are reluctant to hire these individuals, even though, in many cases, they perform as well or even better than other employees.
CLEARWATER, Fla. (PRWEB) October 19, 2021
According to recent estimates, the United States has about 10 million job openings yet over 8.4 million unemployed individuals are still looking for work.(1) As business owners complain about staffing issues and Americans are confronted with longer wait times for services due to inadequate staffing, there is a way to help alleviate the labor shortage. Dr. Craig Escudé, President of IntellectAbility, says, "People with intellectual and developmental disabilities (IDD) can be valuable assets to our workforce. Unfortunately, many businesses and employers are reluctant to hire these individuals, even though, in many cases, they perform as well or even better than other employees."
People with IDD are often overlooked for jobs for a variety of reasons. Employers may pass over these individuals because they:(2)

Are concerned about negative coworker reactions to the hiring of a person with IDD,
Assume it will cost more to hire, train, and maintain employment for people with IDD,
Believe people with IDD won't be as productive or will never develop the knowledge, skills, and attitudes necessary to complete job tasks,
Fear litigation associated with the hiring and firing of people with IDD,
Hold on to negative stereotypes about people with IDD,
Want to avoid negative customer reactions which may lead to fewer business transactions, and
Won't gain any economic incentives, such as tax credits, for hiring people with IDD.
But many people with IDD are successful at work. In Australia, a McDonald's employee with Down Syndrome retired after 32 years of loyal, productive service.(3) In Colorado, a thrift store chain employs around 350 people with IDD in various roles, including donation coordinators, clothing hangers, and room attendants. (5) Perhaps most notably, a café in Middletown, NJ, is staffed almost entirely by adults with IDD. The owners, whose daughter has Down Syndrome, employ 34 adults with IDD and 4 with neurotypical disability.(6)
"As an employer myself, I would tell other employers that the vast majority of folks with IDD are typically more dependable, honest, and have way more desire to please than those without IDD. They are absolutely more capable than most people might think and they bring a lot of positive energy into a workplace that can be extremely contagious. I can say that I simply don't hear of employers who regret hiring individuals with IDD but often do hear how they believe their workplace wouldn't be the same without them," says Scott Stills, Enrichment Center Director at Reach for Independence, a North Carolina service provider agency which, among their many services, helps individuals with IDD gain employment.
Part of the solution involves providing opportunities for young people with IDD to receive an education that can transfer to the workplace. After high school, programs such as those in vocational schools can put a person with IDD on the path to long-term employment by connecting them to their interests and developing skills that will help them succeed.
Unfortunately, many employers still believe the misconception that a person with IDD cannot be educated or trained. However, when employers take the time to teach individuals with IDD and modify the job to best meet their needs, they're often rewarded with a productive and long-term employee. Additionally, these companies often reap the benefits of goodwill from the community, who view the hiring and retention of people with IDD as a boon.
"Most individuals with IDD are supported by a trained paraprofessional that will be there to help the individual get through their job duties in a timely and professional manner. Also behind each individual is a team that consists of a case manager, a qualified professional, the paraprofessional's supervisor, a parent or support giver, and of course, the paraprofessional, if they need one. This team works well at making sure that the job the individual will have is appropriate for him or her. Success for this individual is vitally important to this team and their support continues for the entirety of the individual's employment," adds Stills.
On a broader level, the government could help these individuals find employment by incentivizing their hiring. Implementing programs that reward companies who hire people with IDD does not need to be complicated. The government might provide companies with tax credits or other financial reimbursements. It could also help develop agency programs similar to those connecting military veterans with employment opportunities.
Many employers gain dependable, motivated employees when they hire people with IDD. There are benefits for the individual too—by having a job, a person develops greater self-esteem as they contribute to society while earning money that allows them to live a more independent life. Ultimately, this results in happier, healthier workers who can help drive the country's economic recovery.
The hiring crisis is real, but it can be solved by actively including people with intellectual and developmental disabilities in recruitment and hiring efforts. Unfortunately, many employers remain fearful of doing so. However, better education for these people, plus incentives for companies to hire people with IDD, can help.
Dr. Escudé says, "When we're employed, we have a sense of purpose, of responsibility and knowing that people are counting on us. It's a very rewarding experience that everyone wants, and people with disabilities should also be able to enjoy contributing and feeling satisfied with their work."
About IntellectAbility:
IntellectAbility provides tools and training to agencies, governmental entities and supporters of people with intellectual and developmental disabilities to foster early recognition and mitigation of health risks thereby improving health and wellness. One such tool is the Health Risk Screening Tool (HRST), of which they are the sole developer, producer, and distributor. The web based HRST is the most widely used and validated health risk screening instrument for people with intellectual and developmental disabilities. IntellectAbility also provides numerous health-related and person-centered service trainings for supporters of people with IDD. With unrelenting focus, IntellectAbility works to fulfill its mission of improving health and quality of life for people with intellectual and developmental disabilities and other vulnerabilities. For more information, visit ReplacingRisk.com.
Sources
1. Long, Heather, et al. "Why America Has 8.4 Million Unemployed When There Are 10 Million Job Openings." The Washington Post, WP Company, 8 Sept. 2021, washingtonpost.com/business/2021/09/04/ten-million-job-openings-labor-shortage/.
2. "Why Employers Don't Hire People with Disabilities: A Survey of the Literature." CPRF, 3 Feb. 2015, cprf.org/studies/why-employers-dont-hire-people-with-disabilities-a-survey-of-the-literature/.
3. "After 32 Years of Service in a McDonald's This Man with Down's Syndrome Is Finally Retiring." Bored Panda, boredpanda.com/mcdonalds-employee-32-years-down-syndrome-retiring/?utm_source=google&utm_medium=organic&utm_campaign=organic.
4. Batz Jr., Bob. Opening next Week Is Brother Andre's Cafe, Where 'These Employees Are Part of the Experience'. Pittsburgh Post-Gazette, 6 Oct. 2021, post-gazette.com/life/goodness/2021/09/23/Brother-Andres-Cafe-coffee-shop-Pittsburgh-Epiphany-Church-adults-developmental-disabilities-autism-jobs-red-door/stories/202109070139.
5. Lewis, Lloyd. "Opinion: Unemployment May Be Dropping in Colorado, but for at Least One Vulnerable Group It's Rising." The Colorado Sun, 1 July 2021, coloradosun.com/2021/07/11/jobs-disabled-opinion/.
6. Carino, Jerry; "No Labor Shortage At Café Staffed By Workers With Intellectual Disabilities"; 01 Oct 2021; Originally published in the Asbury Park Press/TNS and reprinted in DisabilityScoop; disabilityscoop.com/2021/10/01/no-labor-shortage-cafe-workers-intellectual-disabilities/29514/