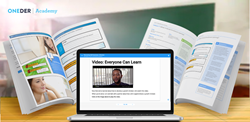 NUTLEY, N.J. (PRWEB) September 04, 2019
ONEder, a leading EdTech curriculum company, has launched Social-Emotional Learning (SEL) Curriculum that supports students in dealing with the daily challenges of high school. The curriculum is based on the framework for promoting intrapersonal, interpersonal, and cognitive competence developed by the Collaborative for Academic, Social, and Emotional Learning (CASEL), covering all five of the SEL competencies they've identified: Responsible decision-making, relationships skills, self-awareness, social awareness, and self-management.
"After having successfully implemented our SEL curriculum with schools in over 20 states, we are proud to announce the official release of the most comprehensive social-emotional learning curriculum for high school students," says Jon Izak, CEO of ONEder. The curriculum takes a blended approach to learning, providing educators with a suite of lesson plans, collaborative student activities, digital instruction, and online assessments.
Research shows that social-emotional learning programs improve classroom behaviors, social wellbeing, and social behaviors. These skills are essential for all students, particularly in light of the high prevalence of bullying in schools. According to a study by the National Center for Education Statistics, twenty percent of students between the ages of 12 to 18 experienced bullying during the 2016-1017 school year.
Educators, principals, and parents across the country are becoming increasingly aware of the importance of integrating SEL learning practices and strategies with schools. Due to the increase in awareness, 18 states have already implemented K-12 SEL competencies and standards in school systems and progress continues to be made nationwide. Schools are now faced with the challenge of implementing SEL programs to meet these standards with limited resources available to educators, particularly at the high school level. ONEder developed its social-emotional learning curriculum to support schools in meeting this challenge. "We, as a district, have been trying to create an SEL curriculum from scratch as there haven't been very many good options available to us. When we saw ONEder, we felt that it really fit with our goals," says Will Dible, Director of School Improvement at Spencer Community School District (Spencer, IA).
ONEder was founded in 2011 with the mission of combining research-based instruction with cutting-edge technology to support educators and their students. The company was initially inspired by Izak's younger brother with autism to support students with disabilities. "Many of the leading methodologies for supporting all students and their unique learning styles have had stemmed from special education practices. Similarly, our expertise in special education has provided us with a unique approach to supporting social-emotional learning for all students," Izak states.
To learn more about ONEder's SEL Curriculum visit http://www.oneder.com/sel-curriculum or contact Brendan Smith via email, brendan(at)oneder.com.
Want to learn more about what ONEder offers? Visit our website at http://www.oneder.com.