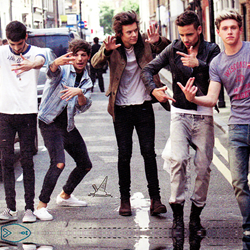 (PRWEB) December 07, 2013
One Direction formed as a band in 2010, and their growing success hasn't stopped growing since. The all boy musical group has hit after hit in their songs, so which is the favorite? Their most recent released album, Midnight Memories, features a ton of top hits. In a recent poll, One Direction fans voted on their favorite One Direction songs.
It's official, "The Best Song Ever" may have the claim to the title, but according to fans is not the best One Direction song. The two top songs in the vote, which will be performed during the One Direction Tour in 2014, were "Story of My Life" and "You and I."
According to recent calculations of fan votes, "You and I" got the most votes, coming in at 16.99%. Surprisingly, this small number was the highest of all the songs, making it clear that fans just love all the album's tracks. The album has 14 songs listed, and each and every single one got a vote.
"Story of My Life" came in a close second behind "You and I" with 15.7% of the tally. While 2,700 fans voted, One Direction's "Happily" came in third place. "Best Song Ever," which was probably not made to actually be the best song ever, was found all the way down in a three-way tie for seventh place.
The five guys of One Direction are currently celebrating their release of their third studio album, that came out on November 25th. This album marks the third album in a row for the group that was number one on the US Billboard 200 album chart. As soon as the album was released, an astonishing 546,000 copies were immediately sold. It has been about 46 years since the last band, The Monkees, had three albums in a row appear at number one. Congrats to One Direction.
In other One Direction news, the band will be touring the US in 2014, showing off their most recent number one album. One Direction tickets are available at Ticket Monster for the lowest prices on the web. http://www.Ticketmonster.com has the cheapest concert tickets, as well as a social media hub and easy checkout system. Visit the site today to buy your tickets and see One Direction perform live.