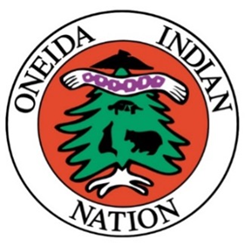 Raising awareness of this legacy through teacher appreciation programs like this one with the New-York Historical Society is a great way to introduce younger generations to our region's shared history and enduring bond.
ONEIDA INDIAN NATION HOMELANDS (PRWEB) March 30, 2022
On Saturday, May 14, the New-York Historical Society and the Oneida Indian Nation have partnered to offer a day full of exciting educational offerings for teachers and families as part of the Museum's Teacher Appreciation Day Open House. The day-long program is free for teachers and school administrators to attend with their families and serves as an opportunity for educators to learn about New-York Historical's robust educational programs.
A screening of the documentary film "People of the Standing Stone: The Oneida Nation, the War for Independence, and the Making of America" will take place in the Museum's auditorium. The 30-minute film is narrated by Academy Award-winning actor Kevin Costner, and tells the story of the Oneidas' decision to side with the American colonists in their fight for freedom and how they assisted the Continental Army in several key battles of the Revolution. A Q&A session will follow the screening.
"This is a tremendous opportunity for New York educators and students to learn more about a significant moment in New York State and American history that is not widely known," Oneida Indian Nation Representative Ray Halbritter said. "We are proud of our culture and our rich history as America's First Allies. Raising awareness of this legacy through teacher appreciation programs like this one with the New-York Historical Society is a great way to introduce younger generations to our region's shared history and enduring bond."
"We are honored to partner with the Oneida Indian Nation―the first Nation to join the United States as an ally during the Revolutionary War―on this special day for educators," said Dr. Louise Mirrer, New-York Historical's president & CEO. "The Open House will be a wonderful opportunity for local educators to learn more about the Oneida Indian Nation's history and culture, as well as to discover the myriad educational opportunities offered by New-York Historical."
Social Dancers from the Oneida Indian Nation will also lead a social dance presentation in the auditorium and host a more intimate demonstration in the Museum's classrooms where attendees can ask questions to learn more about Haudenosaunee traditions and customs. Dancers will explain the significance of their regalia and why they share social dances with the general public. Each dance is dependent upon different drumbeats, different chants and specific foot movements that each individual dancer can interpret into their own style.
To introduce the Oneida language to a broader audience, Oneida Indian Nation Member Brooke Thomas will read popular Haudenosaunee legends to attendees. The legends have been translated to Oneida and English for a new language-learning book series produced in collaboration with Madison-Oneida BOCES. The new books utilize a rebus format, which allows any person to pick up the book and learn specific Oneida words by the end of the story using pictures, color, and phonetics right in the middle of the sentences.
Attendees will also be able to take part in family story time and crafts as part of the new exhibition Picture the Dream: The Story of the Civil Rights Movement through Children's Books, learn about New-York Historical's education initiatives, and much more. Special gallery tours for educators will take place throughout the day as well as information sessions detailing New-York Historical's school programs, teen programs, the Academy for American Democracy, teacher professional development, and curriculum resources.
In recognition of Teacher Appreciation Day, teachers and their families can attend for FREE. To register, CLICK HERE.
About the Oneida Indian Nation
The Oneida Indian Nation is a federally recognized Indian nation in Central New York. A founding member of the Haudenosaunee Confederacy (also known as the Six Nations or Iroquois Confederacy), the Oneida Indian Nation sided with the Americans in the Revolutionary War and was thanked by Congress and President George Washington for its loyalty and assistance. Today, the Oneida Nation consists of about 1,000 enrolled Members, most of them living in Central New York. The Nation's enterprises, which employ more than 4,750 people, include Turning Stone Resort Casino, YBR Casino & Sports Book, Point Place Casino, The Lake House at Sylvan Beach, Maple Leaf Markets, SāvOn Convenience stores, RV Park and three marinas. Proceeds from these enterprises are used to rebuild the Nation's economic base and provide essential services, including housing, health care, and education incentives and programs, to its Members.
About the New-York Historical Society
Experience 400 years of history through groundbreaking exhibitions, immersive films, and thought-provoking conversations among renowned historians and public figures at the New-York Historical Society, New York's first museum. A great destination for history since 1804, the Museum and the Patricia D. Klingenstein Library convey the stories of the city and nation's diverse populations, expanding our understanding of who we are as Americans and how we came to be. Ever-rising to the challenge of bringing little or unknown histories to light, New-York Historical will soon inaugurate a new annex housing its Academy for American Democracy as well as the American LGBTQ+ Museum. These latest efforts to help forge the future by documenting the past join New-York Historical's DiMenna Children's History Museum and Center for Women's History. Digital exhibitions, apps, and our For the Ages podcast make it possible for visitors everywhere to dive more deeply into history. Connect with us at nyhistory.org or at @nyhistory on Facebook, Twitter, Instagram,YouTube, and Tumblr.