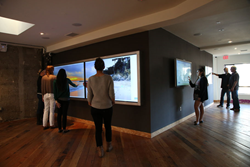 "One Laguna is an innovative, immersive, and entertaining experience that melds the most advanced technology, a prime brick-and-mortar location, and robust content," said Allan Simon, Chairman, Firebrand Media.
Laguna Beach, CA (PRWEB) March 11, 2014
Sometimes innovation springs up in unlikely places. You'd expect to find the nation's most technologically advanced tourism destination discovery center in a major metropolis, or perhaps in Silicon Valley – but in a smallish seaside town (albeit a world-class tourism destination) known for its beaches and art?
Enter One Laguna, which uses state-of-the-future technology – one of the world's first 12.5-foot 4K resolution displays with 32 interactive touch points, for example – to let visitors and locals alike experience Laguna Beach, California in a whole new way.
"One Laguna is an innovative, immersive, and entertaining experience that melds the most advanced technology, a prime brick-and-mortar location, and robust content to give visitors and locals a place to discover everything the world-class seaside city of Laguna Beach has to offer," says Allan Simon, chairman, Firebrand Media. "From accommodations to shopping, from restaurants to entertainment, from coastal mountain hiking trails to the best beaches, One Laguna puts all of our spectacular city on display – and at your fingertips."
The Dawn of a New Era in Destination Discovery Centers
One Laguna opened for beta testing in its downtown Laguna headquarters in early February 2014 and is set for a grand opening in early March 2014. The center is the brainchild of the team at Firebrand Media, the Laguna Beach-based publisher of newspapers, magazines and websites focused largely on the local community.
"Firebrand Media created One Laguna as a portal in the city's best location that provides all business owners – large and small – a powerful new way to reach both visitors and residents," says Steve Zepezauer, chief executive officer and executive publisher, Firebrand Media. "By syndicating Firebrand Media's rich and informative Laguna Beach-centered written and visual content at One Laguna, and by deploying an all-inclusive directory of businesses appealing to consumers on One Laguna's interactive screens, we are championing Laguna Beach's businesses while also testing the concept of privatized destination welcome centers, an increasing necessity for promoting tourism as government funding for this type of marketing – which can be cost-prohibitive to build - continues to decrease."
Technology Drives Discovery
While other cities may have an interactive destination center of some sort, none – including New York City – possesses the level of technology that delivers the engaging and informational experience that One Laguna does, including:

One of the world's largest and most interactive ultra-high-definition 4K video displays with 32 touch points
Two massive, table-sized articulating tablets with touch screens for viewing interactive maps, photos, and offers
Two giant touch screen tablets embedded in coffee tables for relaxed viewing of Laguna Beach videos, artwork, photos, and information
Four 3-foot x 4-foot wall-mounted tablets with touch screens featuring the most all-inclusive directory of restaurants, hotels, attractions, shops, and more
Two 3-foot x 4-foot wall-mounted tablets to create custom photo-booth-style postcards and to watch live social media feeds, respectively
"Beyond deploying leading-edge technology usually reserved for trade shows like CES (the Consumer Electronics Show), One Laguna also aims to take interactivity with smart phones further than others have," says Jonathan Tavss of Scarlet Terrier Productions, a specialist in next-generation technology who has watched the project's technological development and implementation. "In addition, One Laguna's ever-changing content aspect makes it stand out from other experiential centers and museums that use multi-touch screens with static data."
The One Laguna Experience
Upon entering the appealing One Laguna loft-style space in the heart of downtown Laguna Beach, guests are warmly welcomed by One Laguna's specially trained "greeters" (a nod to the famous Laguna Greeter tradition), who guide them to the destination hub's giant interactive screens to begin their virtual journey through Laguna Beach. Guests then quickly register for their own One Laguna account, and begin to explore places to Eat, Stay, Shop and Play – using the intuitively designed interface and giant, vivid touch screens featuring beautiful graphic displays. After reviewing information, photos, and exclusive offers, One Laguna guests can save the most intriguing selections to their "Perfect Laguna" account – with links immediately sent to their Smart Phones. In addition to designing their "Perfect Laguna" experiences, One Laguna guests also can view current and historical photos and spectacular artwork and videos on the center's massive touch screens – as well as create custom photo-booth-style postcards, and watch live social media feeds in and about Laguna Beach and much more.
A New Business Model
As a result of these engaging interfaces and informational offerings, the average visitor to One Laguna is interacting with the space for approximately 45 minutes – a statistic unheard of in the web and mobile realms.
"With most city-focused websites or mobile apps, a user may quickly disengage, likely before he or she has truly discovered much of what that destination has to offer," says Scott Sanchez, chief technology officer and publisher, Firebrand Media. "At One Laguna, guests are fully immersed in an engaging, welcoming, and comfortable physical space, and then stay, compelled by state-of-the-future (yet easy to use) interactive displays that entertain and inform."
One Laguna is based on a classic advertising business model. At its core, One Laguna is a city guide/directory, but one that has been taken to never-before-seen levels of user customization, interactivity, and engagement with compelling expanded content, eye-catching visuals, direct real-time offers, and more. As One Laguna continues to evolve, an e-commerce aspect will be added, as well as both physical and online product placements, a real estate component, and more. Essentially, One Laguna allows visitors and locals to experience all that Laguna Beach has to offer – and, eventually, will allow them to buy all that it has to offer. However, instead of simply and blatantly marketing these aspects of Laguna Beach, One Laguna promotes local business by celebrating the unique, world-class destination that it calls home.
"Visitors and locals alike will want to return to One Laguna again and again to experience our continuously refreshed and augmented content, as well as to receive exclusive special offers from Laguna Beach businesses," says Marc Ostrick, interactive and digital media specialist for One Laguna. "The 300 historic images and 100 gigabytes of video and photo files at launch are just the tip of the iceberg in what One Laguna will offer guests going forward. Laguna Beach locals will want to visit One Laguna frequently for fun events including food tastings, art shows in the Laguna College of Art and Design space on the first level, live radio broadcasts in One Laguna's digital radio studio, musical performances by local acts, and more."
One Laguna is located at 225 Forest Avenue in the heart of downtown Laguna Beach, California – just one block from the beach. One Laguna is free and open to the public from 11am to 7pm daily. One Laguna also houses a gallery of the Laguna College of Art and Design on its main level, as well as a local digital radio station on its upper level. The One Laguna website (http://www.onelaguna.com) offers just a taste of what visitors to the center will enjoy.
"One Laguna creates a truly trans media experience for our company, which now can deliver its popular content in yet another format, blurring the lines between print, online, direct, and experiential media," says Simon. "One Laguna brings Firebrand media's newspaper, magazine, website, and Laguna Beach Directory come to life at One Laguna, which is an innovative – yet natural and complementary – extension of the company's operations. One Laguna also gives Firebrand Media promotional partners and advertisers a highly effective, powerful way to reach their audiences."