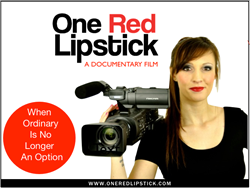 Wake up, put on some lipstick, and be ready for whatever the world brings your way.
Toronto, Ontario (PRWEB) May 21, 2014
One Red Lipstick. What does that mean to you? To aspiring filmmaker, Spenser Chapple, it means an opportunity to learn from successful women entrepreneurs. The documentary film, One Red Lipstick, is now live and looking for funding on Kickstarter. http://www.oneredlipstick.com
Chapple is creating One Red Lipstick, a documentary featuring interviews with female entrepreneurs across North America. A book and website will also accompany the project.
"My mom always used to tell me, 'Wake up put on some lipstick and be ready for whatever the world brings your way,'" says Chapple. For the filmmaker, red lipstick is a perfect analogy for what successful women do – they make bold moves in their lives.
"Like other twenty-somethings, I am looking for role models, trailblazers who have created their own path to success," says the filmmaker. "I want to learn from them." After facing her own challenges, Chapple says she is inspired to share the journey of talented business women. "This is a film about their struggles, their truths, their success. This documentary and book will show the reality of becoming an 'overnight success.'" Chapple hopes the film will encourage a new generation of business women and entrepreneurs to achieve success in their lives.
Some of North America's leading entrepreneurs have signed on to share their story, including designer Linda Lundstrom, Natalie Sisson, founder of Suitcase Entrepreneur, Colette Baron Reid, and Canada's top female entrepreneur, Kelsey Ramsden.
To raise the funds for this ambitious project, Chapple has started a Kickstarter campaign which launched May 15, 2014. "My dream is to raise enough money so that I can interview women from across North America," she says. Chapple starts principal filming this summer.
To support the One Red Lipstick project, leaders from three women's organizations, The Clarity Group, Company of Women, and Pinkpreneurs, are helping the filmmaker connect with successful female entrepreneurs.
Spenser Chapple is SVP responsible for marketing and communications for The Clarity Group. As an independent filmmaker, she is responsible for film production for Clarity Group. Chapple is also a TV host on Your Yoga Practice and a highly regarded yoga educator.
To learn more about the project, visit the Kickstarter page at http://www.bitly.com/oneredlipstick.
For more information or for interview requests, contact media(at)oneredlipstick(dot)com.
About One Red Lipstick
One Red Lipstick is a Global Collective. What started as a documentary became a movement. A film, book, and website offering community, training, live events, and opportunities. http://www.oneredlipstick.com