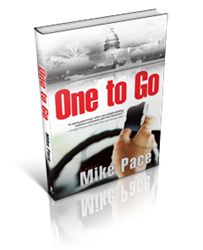 With a supporting cast of memorable characters buttressed by muscular prose, One to Go is a devilishly clever tale, one you won't want to miss. "— Gayle Lynds, New York Times best-selling author of The Book of Spies
Longboat Key, Florida (PRWEB) December 02, 2014
ONE TO GO by Mike Pace is now available in hardcover (ISBN 978-1-60809-135-5, 314 pages, paranormal thriller, $26.95) and all digital/eBook formats (978-1-60809-136-2, $14.95)
The synopsis:
Tom Booker is a new attorney at a powerful Washington law firm. Texting while driving across Memorial Bridge, he loses control and crashes into an oncoming minivan carrying his own daughter and three of her friends. The minivan tips up on two wheels, about to flip over into the Potomac. Time freezes, he's alone on the bridge. A young couple approaches and offers him a re-wind. The crash would be averted, the children saved. All he must do is kill someone every two weeks—anyone—a "soul exchange." A moment later, Tom is back in his spinning car, but avoids the deadly crash. He laughs about the hallucination, attributing it to bumping his head on the steering wheel when his car came to an abrupt stop. But his encounter wasn't a hallucination. Two weeks later, the minivan driver is brutally murdered. Tom receives a text: one down, four to go. He has never shot—much less owned—a gun in his life, and now must turn himself into a serial killer or his daughter and her friends will die.
"Fast-paced and extremely interesting, readers are introduced to a young attorney in Washington, DC. Breaking the law while texting as he's driving, he soon finds himself in the center of a nightmare of biblical proportions…A very strange, dark, intense tale that actually spotlights (in an odd way) the risks and horrors that come on a daily basis from someone texting while driving. Even though this is a fictional tale, it really brings the point home. The angels/demons, whichever title these two people claim, are keeping a tally so Tom can't cheat, and readers won't be able to look away. This is a completely unique suspense novel; while you hold your breath waiting for the next shoe to drop, the reality sets in."
—Suspense Magazine
"One To Go by Mike Pace spins out a fascinating premise—what if a hideous mistake in life could be rewound?—into a ripping good novel, with a mix of tight plotting, explosive excitement, and vivid characters. Highly recommended."
—Douglas Preston, #1 best-selling co-creator of the Pendergast series of novels
"Law & Order meets The Exorcist! This entertaining and original chiller will lead you along one surprising twist and turn after another. Read this creepy page-turner with all the lights on!"
—Hank Phillippi Ryan, Anthony, Agatha, Macavity and Mary Higgins Clark award winning author
"A terrific mix of murder and mayhem, with a clever woo-woo twist that will keep you on your toes. Definitely worth the price of admission."
—Steve Berry, New York Times best-selling author of King's Deception
"The blisteringly original One to Go is one of those rare books that bends genres as it poses one of those rare What If? questions you've never seen before. Mike Pace has fashioned a relentlessly suspenseful, gut-wrenching tale that's both homage to the classic Twilight Zone and a kind of post-modern take on early Stephen King with a wildly imaginative concept realized to the fullest. A book that promises a lot but makes good on every page in this absolutely stellar debut."
—Jon Land, best-selling author of Strong Darkness
ONE TO GO is available through public libraries and your favorite bookseller. Distributed by Midpoint Trade Books, Ingram, Baker & Taylor, Bookazine, OverDrive, and other fine literary distributors.