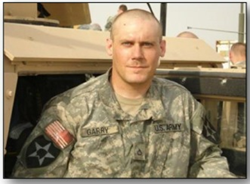 Glen Ellyn, IL (PRWEB) June 24, 2014
Over one million unemployed veterans currently live in the United States. Another one million veterans retiring from duty are expected to join that group in the next 5 years. Additionally, 22 veterans commit suicide every day. That number is considered to be grossly under-reported.
The people who continually risked their lives to protect the freedoms of their fellow Americans are being treated poorly. Despite their discipline, reliability, sense of duty, honor, and ability to get the job done, veterans are being shunned for employment.
This reality begs the question. What resources are available to a veteran, to not only realize gainful employment, but experience the part of the American dream that they risked their lives to protect?
Shaun Garry, United States Army veteran, was medically discharged from the armed forces after being in five, IED - improvised explosive device - explosions. Garry is also the recipient of over 14 medals, ribbons and badges, including the Purple heart. Despite his dedication, work ethic, and ability, Garry was consistently denied employment.
However, with God's help and the help of a local portfolio bank - Ridgestone Bank of Glen Ellyn- Garry and his wife Stacy are now getting the opportunity to own and operate their own business. The Garry's now own a concept restaurant called 2 Toots Train Whistle Grill - where all the diners' food is delivered to the tables by electric train. And, they will be celebrating Illinois Veteran Wounded Warrior Weekend at their new business on June 28-29, 2014.
For the many veterans who are feeling desperate, helpless or even hopeless, there is hope. Military veterans like Garry are able to realize the American dream that they risked their lives to defend. For Garry and his wife, having God and the helping hand of business is what was required to realize what so many of us take for granted.
For media inquiries or to arrange an interview with Shaun Garry, kindly contact Glenn David Productions at 1-800-887-3517.