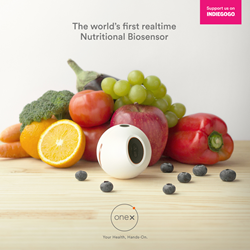 One X offers to change the game using antioxidant tracking as a new holistic biometric marker, "A 360 approach to your health," comments Anthony Weil, CEO and co-founder of One X
Mountain View, California (PRWEB) November 09, 2016
One X, the world's first handheld biosensing device measuring skin antioxidant levels, hires a 20-year-old marketing maven, Daniel Wallock, to help with their Indiegogo campaign. Daniel, a full-time Sarah Lawrence student has in just a year worked with over twenty-five brands including BMW, The American Heart Association, the University of California Santa Barbara, and Girl's Inc. In the last three months alone, Daniel has increased his small business clients' revenues by over $175,000.
One X is a revolutionary patented handheld sensing device that measures your skin antioxidant level. The scan is done directly from the palm of your hand, instantly and non-invasively. Your nutritional and lifestyle habits can negatively or positively affect your skin antioxidant status.
Most chronic diseases are known to be lifestyle born diseases and the fitness/wearable industry has engulfed the opportunity targeting consumer and corporate clients. Yet, tracking movement/steps offer a limited scope of our whole lifestyle equation. One X offers to change the game using antioxidant tracking as a new holistic biometric marker, "A 360 approach to your health," Anthony Weil, CEO and co-founder of One X comments, adding: "Your One X score is the missing metric to find your right lifestyle balance – the next level in biosensing"
One X allows you to track your level over time in response to habits such as diet, supplements, sleep, exercise, sun, alcohol, stress and pollution and get instant insight on their impact on your body. One X App provides you with personalized recommendations such as custom nutritional guidance and specific supplement formulas to reach your peak antioxidant protection.
One X is live on Indiegogo. Shipping in May 2017, One X will retail for $249 but is available at an an exclusive pre-order price.
About One X
One X was founded by Anthony Weil - MBA, Reinold Rossler. Alexander Rieder – MSc and Jean Butterlin in 2015 after more than 2 years of hardware and software R&D across Germany, USA and Brazil. One X has assembled a team of world-class transdisciplinary experts in applied biophysics, biology, software engineering, computer vision, and design with support of the leading innovation think tank Singularity University and key influencers in the field of health (partnerships under review). One X is headquartered in Mountain View, California. One X Sensor is available now for pre-order on Indiegogo.
Find One X at http://www.one-x.co/
Find Daniel Wallock at http://www.danielwallock.com/