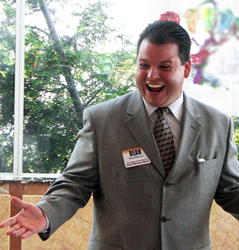 Simply put Online Marketing Muscle coaching team are the authorities on building your online brand
Columbus, OH (PRWEB) July 31, 2013
For residential cleaning companies looking to breakaway from the pack, developing a consistent online brand is a must have to landing and keeping the best customers. In a webinar for ARCSI members on Tuesday August 6, 2013 at 1PM EST, marketing experts Dean Mercado and Bill Baylis of Online Marketing Muscle confront the topic head on and explain to cleaning owners what it takes to develop, grow and compete for business by building a better online brand.
ARCSI Executive Director Ernie Hartong explains, "Our members who are residential cleaning companies from all over the world, tell me time after time, how confusing it can be to begin branding themselves online." Hartong continues, "That is why we teamed up with our longtime industry partners Dean Mercado and Bill Baylis from Online Marketing Muscle. Simply put, they are the authorities on building your online brand and we wanted to give our members access to the best in the field."
The online marketing company has been coaching most of the high end residential cleaning companies in the industry for more than 5 years now. In that time, they have seen that it is even more evident that many cleaning company business owners get stuck when it comes to exactly what are the best branding strategies needed to build their online reputation.
Company President, Dean Mercado says, "This is going to be a power-packed 60 minute program! We are going to spoil ARCSI members with our best tactics to build an unbelievable online presence." COO Bill Baylis chimes in, "By the time we are done, participants will know what social proof is, the best uses for testimonials and how to bury those unavoidable bad reviews."
In a nutshell, here are some examples of what the coaching tandem will cover in the webinar that is part of managing your online brand:
You received a negative Yelp! review, now what? How can you work to help restore your name and your reputation?
Your customers love you, but they aren't sharing that love. How do you go about soliciting and using client testimonials to your advantage?
Members can register free for the webinar at http://www.arcsi.org
Non members are welcome to participate, registration is only $5.
Any questions about the event or to join ACRCI, contact Chris Zimmer Phone: 614.547.0887 or email to chris(at)arcsi(dot)org
###
About:
Dean Mercado, CEO and Co-Founder of Online Marketing Muscle is a well-respected marketing coach, strategist, author, and speaker with expertise on helping small businesses and independent professionals leverage the power of the Internet to increase their visibility, credibility, and reach within their target market.
Bill Baylis, COO of Online Marketing Muscle, is a business-turnaround expert who has made his life's work out of creating new revenue-generation methodologies, operational procedures, sales techniques and marketing strategies for business.
ARCSI, The Association of Residential Cleaning Services, International (ARCSI) was established to assist residential cleaning service owners and professionals in starting, promoting, building and expanding their businesses.