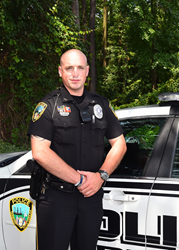 Rocky Mount, NC (PRWEB) August 19, 2014
For several years, Tarboro Patrolman/Training Officer Ryan Jordan has juggled work and family with classes at Edgecombe Community College. With just several courses remaining toward a degree in criminal justice technology, he's almost reached his goal.
College officials had Officer Jordan and other working adults in mind when they created Weekend College to make higher education more convenient and accessible. Weekend College is now beginning with two programs: criminal justice technology and natural hair care.
Law enforcement and corrections officers in the area typically work a two-week rotation, first nights, then days, then back to nights, and so forth. For them, attending traditional daytime classes during the week poses a scheduling challenge.
Officer Jordan, who also teaches classes in law enforcement CPR and first responder at ECC, says a degree will help "further my career in law enforcement. Also, the new Weekend College will enable more officers to attend college."
"Weekend College is an important new choice for students," says Patricia Saunders, who joined the college earlier this year as director of evening and weekend programs. "All ECC students may attend the Weekend College, such as adults seeking education for a new career or career enhancement, parents planning to return to the workforce, senior citizens or military veterans. Any student who is registered at the college is eligible to enroll in weekend courses."
Criminal Justice Technology
Initially, criminal justice courses will have a law enforcement emphasis. Classes will include Introduction to Criminal Justice, Juvenile Justice, Criminal Law, Expository Writing and College Student Success.
These classes begin Aug. 22 and meet from 5:30 to 9:30 p.m. on Fridays and from 8 a.m. to 5 p.m. on Saturdays. Classes meet for three weekends each month.
The college also has developed more online courses in criminal justice as well as Web-enhanced and hybrid courses that combine online and classroom instruction.
"Students can mix and match and choose what works best for them," says Rick Basile, criminal justice program chair.
Natural Hair Care
In addition to criminal justice, natural hair care will be offered through ECC's Weekend College.
Natural hair care is a two-semester program for individuals who want to focus on braiding hair. Students will work on both mannequins and live models to learn about braids, twists, knots, cornrows, locks, artificial hair and braid removal.
Classes began Aug. 15 and meet from 5:30 to 9:30 p.m. on Fridays and from 8 a.m. to 5 p.m. on Saturdays. Classes meet for three weekends each month.
"A lot of people do this at home," says Trudy Lynn, director of special programs at the college. "This way, individuals can earn a certificate, apply for licensure, and be paid for their skills."
Upon completion of the training, graduates will be eligible to sit for the North Carolina Natural Hair Braiding License Exam.
For more information or to register for Weekend College, please contact:

Criminal Justice Technology, Rick Basile, 252-823-5166 ext. 162, basiler(at)edgecombe(dot)edu
Natural Hair Care, Trudy Lynn, 252-823-5166 ext. 220, lynnt(at)edgecombe(dot)edu
Weekend College, Patricia Saunders, 252-823-5166 ext. 113, saundersp(at)edgecombe(dot)edu
About the company:
Steady growth and expanding impact have characterized Edgecombe Community College as it has evolved from one small building in 1968 into a multi-campus institution with campuses in Tarboro and Rocky Mount, North Carolina. The college helped meet the educational and training needs of about 13,000 individuals in the community last year. This included the implementation of distance learning and online courses to reach students with travel and time barriers. Throughout, their strength is and will remain putting the needs of students first. For more information, visit http://www.edgecombe.edu/.