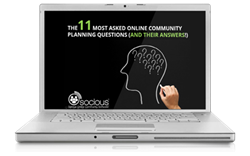 By putting webinar attendees in the driver's seat, we ensure everyone walks away with valuable and actionable information.
Gilbert, AZ (PRWEB) October 23, 2014
Socious, a leading provider of online community software to companies, associations, and user groups, announced a unique new webinar for organizations planning on creating an online customer or member community. The free online event, entitled The 11 Most Asked Online Community Planning Questions (and Their Answers!), will answer the most popular questions submitted by registrants.
"By putting webinar attendees in the driver's seat, we ensure everyone walks away with valuable and actionable information. The variety of challenges that online community administrators face vary greatly. We wanted real people with real online community challenges to drive the webinar agenda, so we could cover a wide range of issues. We will speak specifically to unique situations and provide viable, real world solutions," said Katie Bapple, Senior Online Community Strategist at Socious.
In this webinar, organizations will learn proven best practices and strategies to address their most difficult online community questions. Attendees will hear thorough discussions on topics ranging from hiring an online community manager and tracking the right metrics to aligning your online customer community with your business goals.
"Webinar attendees will obtain an understanding on how to address a variety of common online community management obstacles such as driving member engagement, creating effective community marketing practices, and developing valuable community content plans," Bapple continued.
The 60-minute webinar will take place on Tuesday, October 28, 2014 at 2:00pm EDT. Registration for the event can be found at socious.com, where participants can also submit their questions.
About Socious
Founded in 2002, Socious (socious.com) offers the industry's most complete online community software to large and mid-sized businesses, user groups, and associations. The Socious peer-to-peer community platform includes private social networking, customer communication tools, discussion forums, membership management, collaboration tools, and a full mobile platform to help organizations increase sales, retention, and member engagement. Socious provides a full range of professional services to help organizations plan, launch, and manage their online customer or member community. Take an online tour of Socious online community software.
###