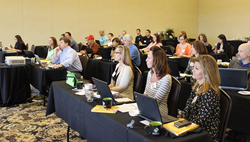 I was most impressed by Socious's commitment to our success.
Gilbert, AZ (PRWEB) February 26, 2014
Socious customers gathered near the social software company's headquarters outside of Phoenix earlier this month to share ideas, receive training on new features, and learn about how the platform is being expanded over the next year. On February 10th and 11th, Socious executives provided insight into the company's direction, networking opportunities, and live training to its growing customer base.
"Our diverse customer community includes organizations ranging from Fortune 500 companies to nonprofit associations. Each of our customers has a unique online community strategy, but there are also commonalities in how they use our platform to keep people engaged and provide value to their target audiences," said Scott Balthazor, president and co-founder of Socious.
The event, which Socious hosts at no costs to its customers, enables membership, marketing, and online community professionals to learn directly from both Socious's training team and other customers.
"This event is not only an opportunity to get free training on online community software features, but is also an opportunity for customers to see what other organizations are doing in terms of building community, running events, and managing membership," continued Balthazor.
Customers were treated to two full days of hands-on training in areas such as how to manage customer communication, membership dues, and events more efficiently using a single system and how to increase and maintain member engagement in their online community.
"I learned new tricks to help my communities be smarter and run better, but I was most impressed by Socious's commitment to our success. That extends well beyond just getting better with the mechanics of the software. The sessions on member engagement and content marketing were invaluable and went above and beyond what I was expecting to receive," said David Teter, the director of marketing communications & information management at JMW Consultants, a leading provider of breakthrough leadership training and development for F100 executives and teams.
Socious executives also gave customers insight into what is ahead for the company and online community platform in 2014. After several years of accelerated growth, Socious is investing in making its online community software easier to use, helping customers get more business-level analytics from their communities, and expanding their customer support operation.
Socious continues to be one of the most mature and comprehensive online community platforms for business-to-business companies, nonprofit associations, and user groups. Providing training and networking opportunities at little or no cost to customers is an important part of helping organizations successfully leverage their communities to increase engagement and get more visibility into their customer base.
About Socious
Founded in 2002, Socious (socious.com) offers the industry's most complete online community software to large and mid-sized businesses, user groups, and associations. The Socious platform includes private social networking, customer communication tools, discussion forums, membership management, collaboration tools, and a full mobile platform to help organizations increase sales, retention, and member engagement. Take an online tour of Socious online community software.