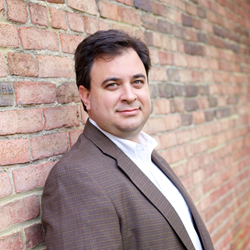 Online member communities are one of associations' best kept secrets for boosting their value proposition to their members.
Gilbert, AZ (PRWEB) March 06, 2014
Socious, a leading provider of private member community software to associations, nonprofits, and businesses, will be leading a session on private online community strategies for associations at the 2014 ASAE Great Ideas Conference. The conference is being held at the Hyatt Regency in Orlando, FL from March 8-11, 2014.
Socious's senior director of strategy & marketing, Joshua Paul, will co-present with Maggie McGary from the American Occupational Therapy Association. They will focus on the role that private online member communities play in increasing member retention.
"Online member communities are one of associations' best kept secrets for boosting their value proposition to their members," said Joshua Paul. "We will illustrate the business case for focusing on member retention, as well as walk association leaders through real tips for keeping more of their members."
This session at the Great Ideas Conference is the latest presentation that Socious was asked to deliver to the association community at ASAE conferences. While Socious is an attractive option for businesses that want to create online customer communities, Socious has always been an excellent fit for associations and nonprofit membership organizations. Most recently, Socious co-lead a session at the ASAE Technology Conference on the habits and processes of successful online community managers.
"Socious continues to be a leader in the association space. We have doubled down on our commitment to associations and nonprofit membership organizations over the past several years," said Paul Schneider, senior vice president and co-founder of Socious. "As the number one provider of education and information to associations on launching and managing private online communities, association leaders trust the Socious team and look to us for social community guidance and technology. The Great Ideas Conference is an ideal venue to dive deep into member engagement tips and provide tangible takeaways to association executives."
Attendees of the ASAE Great Ideas Conference can participate in the session on Monday, March 10th at 1:30 PM EDT in the Plaza K room of the conference center.
About Socious
Founded in 2002, Socious (socious.com) offers the industry's most complete online community software to large and mid-sized businesses, associations, and user groups. The Socious platform includes private social networking, customer communication tools, advanced segmentation, forums, collaboration tools, and a full mobile platform to help organizations increase retention, revenue, and member engagement. Take an online tour of Socious online community software.
###