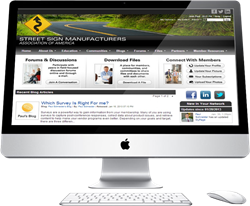 The ASAE Tech show has always been a great venue for association executives to explore how to leverage technology to provide more value to their members.
Gilbert, AZ (PRWEB) December 11, 2014
Socious, a leading provider of online community software and services to businesses, associations, and user groups, announced today that the company will be exhibiting at ASAE's 2014 Technology Conference & Expo.
Socious is one of the largest providers of online community software to associations. Each month organizations around the world leverage the Socious platform to keep over one million members engaged. The broad range of social tools and engagement opportunities available to associations and their members in Socious online community software enables organizations to consistently report significantly higher member engagement levels than the industry average.
"The ASAE Tech show has always been a great venue for association executives to explore how to leverage technology to provide more value to their members. We're looking forward to helping association executives uncover if launching a private online community for members is the right engagement strategy for them." said Joshua Paul, Socious's senior director of strategy and marketing.
The Socious online community platform features a private social network, secure group collaboration, document sharing, and a one-of-a-kind integrated discussion forum/listserv engine. The Socious platform integrates with all major association management systems (AMS) to allow single sign-on, personalized security access, and synching between the AMS's membership data and the private online community profiles.
"The association community and the technology companies that serve them are a tight knit group. We're looking forward to seeing many customers, partners, and friends at ASAE Tech," continued Paul.
Associations and other nonprofit membership organizations rely on Socious's private online member communities to achieve a variety of goals, including:

Improving member benefits to acquire new members
Increasing member retention
Keeping more members engaged and informed
Managing chapters or components more efficiently
Collaborating on industry and advocacy issues
Increasing volunteerism
Generating non-dues revenue
Along with providing the most complete online community platform on the market, Socious also provides the services that associations need to create an active member community. Socious's professional services group helps associations executives plan their private online community strategy, set up community management processes to grow the community, and tie the thriving community back to measurable business outcomes.
The ASAE Technology Conference & Expo will be held December 16th and 17th at the Gaylord National® Resort & Convention Center in National Harbor, Maryland.
About Socious
Founded in 2002, Socious (socious.com) offers the industry's most complete online community software to large and mid-sized businesses, associations, and user groups. The Socious platform manages over 1 million customers for many of the world's top companies and membership organizations. Socious's peer-to-peer community software includes private social networking, customer communication tools, discussion forums, membership management, collaboration tools, and a mobile platform to help organizations increase revenue, retention, and member engagement. Socious provides a full range of professional services to help organizations plan, launch, and manage their online community. Take an online tour of Socious online community software.
###