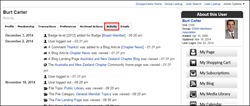 The new social activity feature in the Socious platform is like giving your company a crystal ball into community members' priorities, challenges, and motivations.
Gilbert, AZ (PRWEB) January 09, 2015
Why do companies create online communities? While it is partly to host the important conversations in their industry and around their products, smart businesses see a greater benefit from analyzing the social activity data of their customers to proactively provide support, identify additional revenue opportunities, and recruit customer advocates.
Socious, a leading provider of social community software for businesses, user groups, and associations unveiled a new customer intelligence feature that enables organizations to gain better insight into each customers' journey with their products, services, and organization.
"A company's greatest asset is their customers. Retaining hard-earned business, expanding the relationship, and incorporating customer insight into the product development process all rank among executives' top priorities," said Scott Balthazor, president and co-founder at Socious.
"The new social activity information in the Socious platform is like giving your company a crystal ball into community members' priorities, challenges, and motivations. You can then leverage that data to get the right messages in front of the right customers at the right time," Balthazor continued.
The new Activity tab, visible to administrators and community managers in each community members' profile, provides a clean, easy-to-read timeline of every activity a user performs: Whether it's logging in or out of the community, viewing a specific page, searching the community for answers, earning a badge, uploading a file, or posting to a discussion forum, each and every action is logged and stored for easy retrieval and analysis.
"The addition of an Activity tab to the user profile is by far my favorite addition in the latest release... and it's one of the best enhancements I've seen added to the Socious online community software platform! This feature comes in incredibly handy when I need to drill down to a user's exact behavior on the site, and now I don't have to try and piece together information on his or her activity. It's something I never realized how much I was going to use it until I actually saw it in action," said John Tyler, Web and Digital Content Manager at American Association of Diabetes Educators.
This new feature provides a wealth of important data that can be used by various teams within an organization:
Customer Service
Support staff can track the content members have viewed and actions they have taken, including which search terms members are using inside the community, enabling them to more easily assist those who may be having trouble.
Business Development
Salespeople can monitor the activity of prospective customers to better understand their interests, helping them to shorten the sales cycle with a more personalized approach.
Account Management
Account managers can leverage this data to determine which users might respond to an offer to upgrade their account, renew their contract, or purchase a registration add-on for an event.
Membership Management
Association executives can identify the interests of specific members, using this insight to present them with volunteer opportunities, a speaking role at a conference, or simply to become more active in their community.
Community Management
Community managers can use this information to pinpoint popular content in the communities they manage to better understand their members' interests, helping to promote future engagement and growth.
All businesses and nonprofit membership organizations currently using Socious online community software have access to the new Activity tab immediately.
About Socious
Founded in 2002, Socious (socious.com) offers the industry's most complete online customer community software to large and mid-sized businesses, user groups, and associations. The Socious platform manages over 1 million customers for many of the world's top companies and membership organizations. Socious's peer-to-peer community software includes private social networking, customer communication tools, discussion forums, membership management, collaboration tools, and a mobile platform to help organizations increase sales, retention, and customer engagement. Socious provides a full range of professional services to help organizations plan, launch, and manage their online customer community. Take an online tour of Socious online community software.
###