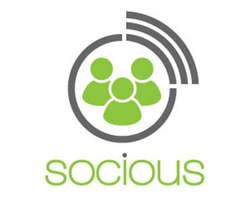 The businesses and membership organizations that run their online communities on the Socious platform are able to connect their customers with their entire ecosystem of customers, partners, and employees.
Gilbert, AZ (PRWEB) February 12, 2015
Socious, a leading provider of online customer community software to businesses, nonprofit associations, and user groups, released its annual year-in-review today. Socious recently wrapped up the company's most successful year on record and is carrying that momentum into the new year.
Socious provides cloud-based online community software and professional services to increase customer engagement through peer-to-peer online communities. The Socious social community platform is used by some of the world's top companies and nonprofit organizations to maintain strong relationships with over one million customers or members.
"Companies are increasingly relying on higher customer engagement to reduce churn, identify revenue opportunities within their customer base, and leverage real-time feedback from their market to innovate faster," said Scott Balthazor, president and co-founder of Socious.
Socious reported year-over-year software sales revenue growth of 32% in the competitive social community software market. Socious recorded revenue growth above 25% for the fifth year in a row.
"The businesses and membership organizations that run their online communities on the Socious platform are able to connect their customers with their entire ecosystem of customers, partners, and employees," Balthazor expanded further.
For the second consecutive year, Socious increased direct sales (non-channel partner sales) by 50%. This aggressive growth led to a 27% increase in Socious's total customer base in 2014. Socious's new customers ranged from enterprise software companies to leading global associations.
In 2014, Socious was named one of Phoenix's "Best Places to Work" by the Phoenix Business Journal. Every one of the company's departments grew in 2014, including the doubling of the software development department. The growth continues; Socious has expanded its workforce by over 25% since the start of 2015.
To support its growing customer base, Socious released over 220 new features and enhancements in 2014. These included new tools to gleam rich insights about customers from their activity in the social community.
"There are plenty of social community tools available to organizations. It's Socious's community-building approach, unique feature set, and comprehensive community management services that set Socious apart in 2014,"said Paul Schneider, co-founder and senior vice president of Socious.
Socious also launched an online community management consulting division to help organizations develop their customer engagement strategy, set up important community management processes, and manage their communities on an ongoing basis.
"Socious is one of the only enterprise online community software providers that can help organizations develop their online community strategy, provide a world class platform, and ensure that the community grows, is used, and meets your organization's business goals," Schneider continued.
Socious continued to lead the online community movement by publishing over 100 new educational articles, guides, and videos at blog.socious.com and in other industry publications on how organizations can create and manage a private online customer or member community.
The company partnered with Phoenix Children's Hospital to create Jared Boxes, an ongoing community service project intended to lift the spirits of chronically ill children. Socious employees also sponsored a family for Christmas providing much needed essentials such as beds, appliances, and toys for the children in the family.
Socious forecasts accelerated software and services growth in 2015 as more companies make customer communities a central part of their marketing and customer relationship management strategies.
About Socious
Founded in 2002, Socious (socious.com) offers the industry's most complete online customer community software to large and mid-sized businesses, user groups, and associations. The Socious platform manages over 1 million customers for many of the world's top companies and membership organizations. Socious's peer-to-peer community software includes private social networking, customer communication tools, discussion forums, membership management, collaboration tools, and a mobile platform to help organizations increase sales, retention, and customer engagement. Socious provides a full range of professional services to help organizations plan, launch, and manage their online customer community. Take an online tour of Socious online community software.
###