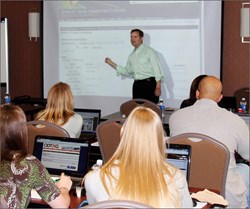 Socious is happy to make that kind of investment in our customers and their missions.
Mesa, AZ (PRWEB) January 09, 2014
Socious, maker of online customer community software for businesses, associations, and user groups, announced its 2014 User Meeting today. Socious customers will gather near Socious's headquarters in sunny and warm Mesa, Arizona. The 3rd annual event will take place on February 10-11, 2014 at the DoubleTree by Hilton Hotel Phoenix – Gilbert.
Attendees will have access to over 20 hours of training sessions given by Socious experts, as well as the opportunity to network in-person with organizations from across the United States that use Socious online community software to manage customer communities, track membership, and run user groups.
During the user meeting, top Socious executives will also provide insight regarding the state of online community strategies and reveal important details about the direction of the company and its software platform for the next year.
Again in 2014, Socious is bringing together its community for advanced training and networking at no cost to its customers. Since the user meeting is free for Socious customers, they must only cover travel expenses and some meals.
"Making every decision a win/win for our customers and company is a core value of our business. The type of hands-on training and access to experts that the Socious User Meeting provides only makes our customer organizations more successful. Socious is happy to make that kind of investment in our customers and their missions," said Socious president, Scott Balthazor.
The in-depth training on the Socious platform will include sessions on online community analytics, increasing member engagement, running better events and conferences, and using design to improve your customer experience.
Socious customers can register for this year's event online at the Socious support website.
About Socious
Founded in 2002, Socious (socious.com) offers the industry's most complete online community software to large and mid-sized businesses, user groups, and associations. The Socious platform includes private social networking, customer communication tools, discussion forums, membership management, collaboration tools, and a full mobile platform to help organizations increase sales, retention, and member engagement. Take an online tour of Socious online community software.
###