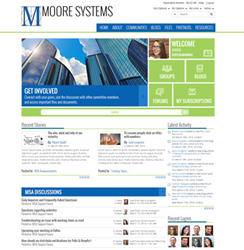 While some companies rely on traditional email and outbound phone calls to keep customers informed, increasingly businesses are placing online customer communities at the center of their customer engagement strategy.
Gilbert, AZ (PRWEB) October 30, 2014
There is a direct connection between a business's ability to keep customers engaged and that company's performance on a variety of core business objectives.
WHY IS CUSTOMER ENGAGEMENT IMPORTANT?
Businesses want customers to do specific things after their initial purchase – ranging from purchasing services, add-ons, or upgrade packages to simply remaining a customer and taking advantage of self-service support resources. If customers don't get the message, don't see the value specific engagement opportunities, or simply don't care, they won't take the actions after the initial sale that are important to businesses.
It is ongoing customer engagement that drives customers to convert on these post-sale calls-to-action and form stronger relationships with companies. Lasting customer engagement impacts goals ranging from retention and up-sell opportunities to customer advocacy and innovation in product development.
ONLINE CUSTOMER COMMUNITIES DRIVE SUSTAINABLE CUSTOMER ENGAGEMENT
While some companies rely on traditional email and outbound phone calls to keep customers informed, increasingly businesses are placing online customer communities at the center of their customer engagement strategy.
For this reason, Socious, a leading provider of online customer community software, will showcase its platform at the Customer Engagement World conference. This gathering of customer-centric executives will take place on November 5th and 6th at the Javits Convention Center in New York City.
THE SOCIOUS ONLINE CUSTOMER COMMUNITY SOFTWARE PLATFORM
Socious provides an enterprise-class customer community platform to mid-sized and large companies. The Socious platform helps businesses leverage high levels customer engagement to increase revenue, improve customer satisfaction, and create more innovative and profitable products and services.
"Businesses waste a lot of time and money reinventing ways to get their customers' attention when they want them to purchase add-on services, provide product feedback, or attend a training class or user conference," said Josh Paul, Socious's senior director of strategy and marketing.
"The exclusive content, peer-to-peer discussions, and access to experts in secure online communities for customers are designed to maintain sustainable engagement," Paul continued.
Rather than sending one-way messages to customers, online customer communities enable customers to connect with a company's entire ecosystem of customers, partners, and employees. Businesses can then leverage that customer engagement to achieve traditional business outcomes, such as higher revenue, lower support costs, and better insight into their market for product planning.
The Socious customer community platform features:

Forum and listserv discussions
Secure segmentation by product, location, or other social data
Customer communication features
Document and video libraries
Targeted surveys and product ideation tools
Event and user group management
Advanced analytics
CRM integration
Several of the world's top business-to-business companies rely on the Socious customer community platform to keep their customers engaged, manage user groups, and identify opportunities to increase revenue and customer retention.
HOW TO LEVERAGE ENGAGEMENT IN YOUR ONLINE CUSTOMER COMMUNITY
Socious strategy and marketing executive, Joshua Paul, will be presenting at Customer Engagement World. The session, Leverage Engagement in Your Online Customer Community – How to Boost Profits and Spur Innovation, will take place at 3:00 p.m. EST on the first day of the conference.
About Socious
Founded in 2002, Socious (socious.com) offers the industry's most complete online customer community software to large and mid-sized businesses, user groups, and associations. The Socious peer-to-peer community platform includes private social networking, customer communication tools, discussion forums, membership management, collaboration tools, and a mobile platform to help organizations increase sales, retention, and customer engagement. Socious provides a full range of professional services to help organizations plan, launch, and manage their online customer community. Take an online tour of Socious online community software.
###