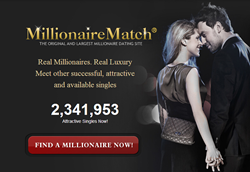 New York City, New York (PRWEB) June 03, 2015
The world is on the go. If you're still sitting in front of your computer, searching your way through millions of profiles on dating website, you might want to make a change.
According to the statistics that was recently revealed by the prestigious millionaire dating site MillionaireMatch.com, members who use the service on their mobile devices has for the first time outnumbered those who still stick to PCs, and the trend is likely to keep increasing for a long period.
The statistics were gathered from a recent research that MillionaireMatch did on its members' using behavior. By the end of May 2015, members who use this millionaire matchmaking service on their mobiles devices have taken up more than half of the total number, reaching a percentage of 53.7%. These members either use the service via MillionaireMatch dating app, or visit MillionaireMatch website from their phones or tablets.
"Apparently not all of us have the time to always sit in front a computer." said Brian, MillionaireMatch's marketing director. "This is where mobile devices can help. Even if you're just having your morning coffee and waffles, you can still say hi to the friends you've chatted with online. Practically you can do it everywhere."
Although there still are many MillionaireMatch members who use the service in the old-fashioned way, Brian expected the percentage to substantially decline in the future. "We are expecting the mobile percentage to continue increasing, given the fact that we are more and more relying on mobile devices nowadays and the convenience they have brought to our lives."
Having been pairing rich and attractive singles for more than 13 years, MillionaireMatch boasts "world's first, largest and most effective millionaire dating site". With such a trend at present, MillionaireMatch is doing their best to fine-tune their mobile strategies. "We've already launched our brand new Pro app, both available on the App Store and Google Play Store. Every feature is made more mobile friendly so using the app would be a totally different dating experience. Our members' engagements are amazing and it drives us to make every effort to make our apps outstanding." said Brian.