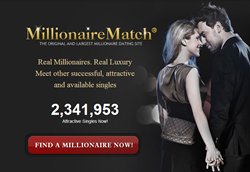 New York City, New York (PRWEB) June 23, 2015
As online dating and matchmaking services become increasingly popular, MillionaireMatch.com's members continue to distance themselves from the glut of singles typically found on other dating sites. The difference? Not only is MillionaireMatch.com the leading matchmaking site for the world's wealthiest singles, its membership is uniquely comprised of honest, active and sensible people looking for a life partner who love engaging in conversations on the website's blogs.
Most recently, MillionaireMatch members started a blog on best practices to get more views and interactions with their profiles from members of the community. The conversation is still taking place, and members are encouraged to add to the blog that has already presented a range of options and suggestions for members. Some members suggest that after blogging on their profiles they see a sharp spike in interactions and traffic from other members, as it is a great way to continuously add fresh content to the profile while at the same time revealing interesting details about the person writing the post.
"At MillionaireMatch.com, we are constantly looking for new features for our members to use and eventually meet that special someone," Jeffery Zhang, co-founder of MillionaireMatch says. "Blogging is universally accepted as one of the best ways to boost traffic and garner awareness, so we thought it was only natural to give that same feature to our members."
Jeffery also points out that since the MillionaireMatch community is already a very active group with new members added every day, the volume of things to read about other members on the website is quite staggering compared to other services.
"We're very blessed to have a community of people on our website like we have, and it's been such a pleasure watching lasting relationships form as a result of people connecting via the written word," Jeffery says.
Since launching in 2001, MillionaireMatch.com has remained fiercely focused on connecting attractive, real millionaires to partners across the world, and has been doing so for well over a decade. The service's elite clientele make up the largest collection of millionaire status CEOs, professional athletes, doctors, lawyers, investors, entrepreneurs, super models, celebrities and more who are seeking honest, long-term relationships for those serious about dating.
To start searching MillionaireMatch.com's attractive, wealthy singles, just create a free account at their website here, or follow them on Facebook for a preview of the company's clientele.